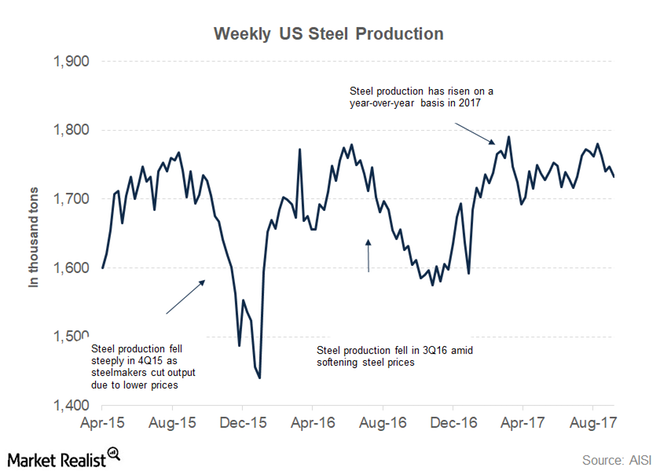 China's Iron Ore Demand Could Fall during Winter, Affecting CLF
Iron ore demand
China, the largest consumer of iron ore (COMT), contributes more than two-thirds of the world's seaborne-traded iron ore. Investors looking for clues about iron ore prices could track the Chinese iron ore demand through iron ore imports and Chinese steel production.
Article continues below advertisement
China's iron ore imports
In October 2017, China's iron ore imports dropped to their lowest level in more than a year to 79.5 million tons. The market participants feel that the volumes were hit by the winter heating season.
China's authorities have mandated steel capacity shutdowns during the winter months to reduce pollution. While this action boosted the demand for the steel-making raw material's demand and price ahead of the cuts, as cuts are becoming more visible, the demand for iron ore is falling.
Investors should note that the weaker import volumes in October were preceded by very strong imports data in September. The country imported 102.8 million tons of iron ore in September 2017. On a year-to-date basis, the imports are up 6.3% year-over-year.
China's steel production outlook
In line with the Chinese authorities' cuts in steel capacity, steel production has seen a marked decline. The average daily crude steel output in October fell for the second straight month. The cuts, therefore, have started showing the intended impact.
As a result, the demand for iron ore might decline. While the overall imports might decline, the substitution of domestic ore with imported high-content ore should put a floor below the seaborne iron ore prices.
As such, miners (XME) producing high-ore content such as BHP Billiton (BHP), Vale (VALE), and Rio Tinto (RIO) could benefit from higher premiums. However, miners producing lower-than-benchmark-grade ore—such as Cleveland-Cliffs (CLF) and Fortescue Metals Group (FSUGY)—could expect discounted prices.