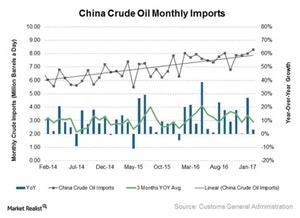 China's Crude Oil Imports: Lowest in the Last 13 Months
China's import and export data
China's total exports in dollar terms rose 6.9% YoY (year-over-year) in October 2017, which was lower than September's rise of 18.6%. In October 2017, China's imports in dollar terms rose 17.2% YoY, which was lower than September's rise of 18.7% YoY. October's imports and exports were lower than expected.
Article continues below advertisement
October's crude oil imports
In October, China's crude imports fell to the lowest level in the last 13 months. In October, China's crude oil imports were 31.03 million tons—down from 34.6 million tons in the previous month. On a daily basis, China imported 7.3 MMbpd (million barrels per day)—compared to 9 MMbpd in September. The crude imports are 7.8% higher year-over-year.
Usually, the crude oil demand rises in the fourth quarter. So, the fall in China's crude oil imports was a surprise. China's independent refineries slowed down their imports because many of them are running out of their import quotas.
First ten months
In the first ten months of 2017, crude oil imports rose 11.8% from the same period last year to 349 million tons.
China's crude imports
Most of China's crude imports are carried out through crude oil tankers. It's one of the largest importers in the world. Around 60% of China's oil consumption comes through imports. Typically, higher crude oil imports mean higher crude oil tanker demand. Higher crude tanker demand translates to higher rates for tankers.
Higher tanker rates benefit crude tanker companies including Euronav (EURN), Nordic American Tankers (NAT), Gener8 Maritime Partners (GNRT), DHT Holdings (DHT), Tsakos Energy Navigation (TNP), and Teekay Tankers (TNK).