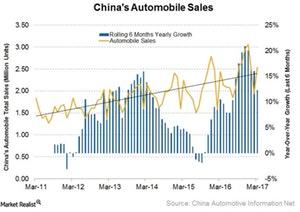 China's Auto Sales in October Helped the Crude Tanker Industry
Auto sales in October
In October 2017, China's automobile sales rose 2% YoY (year-over-year) to 2.7 million. China's automobile sales have been rebounding since June. China's sales rose for the fifth consecutive month. In September, automobile sales were 5.7% higher YoY. Automobile sales are a key indicator to watch when assessing China's economic (FXI) health.
In the first ten months of 2017, China's auto sales were 2.1% higher than the same period last year. However, the sales were significantly lower than the 15.9% growth rate recorded in 2016. In 2016, automobile sales rose due to a cut in the sales tax on small engine vehicles.
Article continues below advertisement
CAAM
The main industry group for China's automotive industry is CAAM (China Association of Automobile Manufacturers). In recent months, CAAM warned that its previous forecast of 5% growth in 2017 wouldn't be met. It doesn't expect growth to exceed 4%. The judgment is based on October's data.
Coming months
An increase in the sales tax on light vehicles is due in January 2018. It should increase automobile sales in last few weeks of this year. The sales tax increased to 7.5% from 5% in January 2017. The tax is expected to increase to 10% in 2018.
Importance of auto sales 
In any country, the transportation industry drives oil demand. A higher number of vehicles means higher oil consumption. Out of the total oil demand in China, 49% comes from the transportation industry. Higher oil demand in China means higher crude oil imports. As a result, it's important to look at automobile sales while gauging the crude tanker industry. Companies in the crude oil tanker industry include Frontline (FRO), DHT Holdings (DHT), Tsakos Energy Navigation (TNP), Teekay Tankers (TNK), Gener8 Maritime (GNRT), Nordic American Tankers (NAT), and Navios Maritime Midstream Partners (NAP).