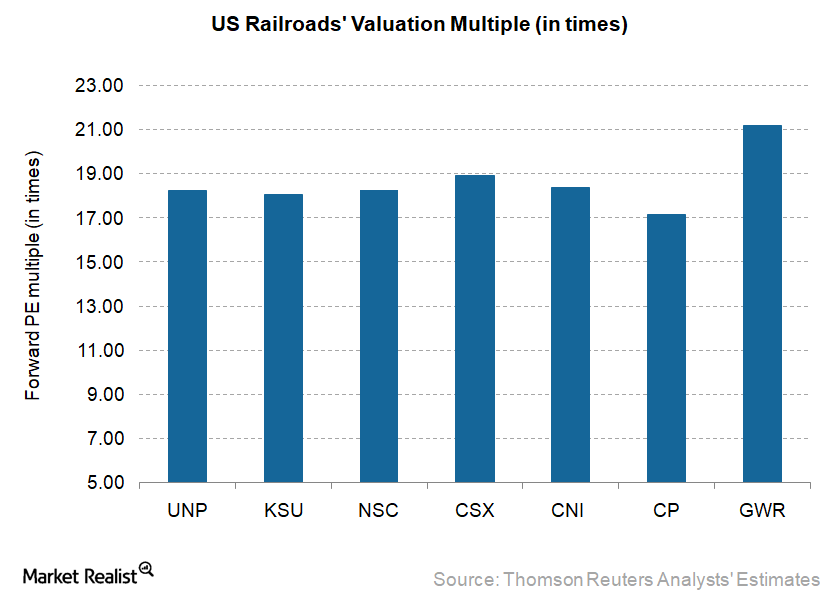 Chart in Focus: Major US Railroads' Valuations after 3Q17 Earnings
By Samuel Prince

Dec. 5 2017, Updated 10:30 a.m. ET
US railroads' valuations
In this final part of the series, we'll discuss the valuations of the major US railroads. At the beginning of 2017, railroad valuations soared with signs of improvement in energy commodity prices. However, these valuations have moved sideways as 2017 has progressed. 
After the 2Q17 earnings, railroad valuations haven't really moved upward as measured by their price-earnings ratios in the last few months.
The issue lies with the railroads' top-line growth. With respect to moderate crude prices, the US railroads (XLI) faced tough competition from trucking in the long-haul lanes. The rail intermodal sector was sharply challenged by the trucking industry. 
Secondly, earnings can be improved through cost-cutting measures, as seen in 2017. What matters is the revenue growth that comes with strong pricing and volume gains. These gains percolate down the income statement, giving earnings a boost.
Article continues below advertisement
In our view, the top-line growth for these railroads could use more strength. Coal volume growth was in double digits in the first half of 2017. However, it has decreased for most of the Class I railroads, raising a question mark regarding coal shipment growth. Year-over-year, overall volumes have been up in 2017, but the rate of growth also matters.
EV-to-forward-EBITDA ratio
The EV-to-forward-EBITDA[1. enterprise value to forward earnings before interest, tax, depreciation, and amortization] multiple reflects how a railroad is valued for each dollar of EBITDA that it is expected to earn. Although a higher ratio could denote an overvalued railroad, operating margins and margin growth also impact the valuation. 
On the other hand, railroads with higher risk may have low valuation multiples. The risk may be financial or operational in nature.
Why CNI has the highest multiple
Canada's largest freight rail, Canadian National Railway (CNI), has the highest EV-to-forward-EBITDA ratio in the peer group with a multiple of 11.8x. CNI has the highest EBITDA, operating profit, and net income margins in the peer group. 
So far, CNI has maintained its leadership position in realizing operating efficiencies. It is followed by another Canadian railroad, Canadian Pacific Railway (CP), which has a multiple of 11.1x. CP's operating margins are next to CNI—the second-highest ranking in the industry.
Kansas City Southern (KSU) ranked third in the EV-to-EBITDA metric with a multiple of 10.4x. KSU has shown significant improvement in its operating margins in recent quarters. The company was able to grow its operating margins in 3Q17 despite the hurricane-related costs. 
Western US railroad Union Pacific (UNP) has an EV-to-EBITDA multiple of ~10.0x. CSX also has an EV-to-EBITDA multiple of ~10.0x, and its rival Norfolk Southern's (NSC) ratio is 9.8x. Worldwide rail services operator Genesee & Wyoming (GWR) has an EV-to-EBITDA multiple of 9.6x.