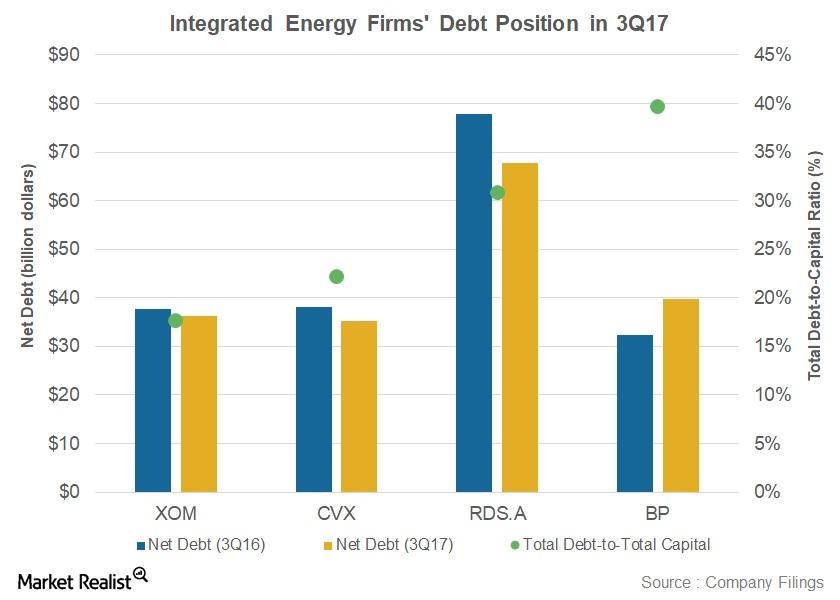 Chart in Focus: Integrated Energy Firms' Debt Positions in 3Q17
Series recap
So far in this series, we have performed a cross-sectional analysis of the latest 3Q17 earnings of integrated energy companies ExxonMobil (XOM), Chevron (CVX), Royal Dutch Shell (RDS.A), and BP (BP). We also reviewed their 3Q17 earnings compared to estimates.
We also assessed their results and their evolving segmental dynamics, and we drilled into their upstream and downstream operational performance figures. In this article, we'll conduct a financial analysis, beginning with debt position.
Article continues below advertisement
Changes in integrated energy firms' debt levels
Integrated energy companies ExxonMobil (XOM), Chevron (CVX), Royal Dutch Shell (RDS.A), and BP (BP) have seen a rise in their debt levels in the past few years due to oil price volatility. As oil prices recovered from the trough, these earnings started improving and led to a decline in debt levels.
These companies are making a conscious effort to keep their debt levels in check, which was visible in their 3Q17 performance figures. ExxonMobil and Chevron saw their net debt levels fall 4.0% and 8.0%, respectively, in 3Q17 over 3Q16. Shell's net debt fell 13% YoY in 3Q17. However, BP saw its net debt levels rise 23.0% YoY in 3Q17.
Total-debt-to-total capital ratios
Moving to the total-debt-to-total capital ratio, ExxonMobil (XOM) reported the lowest ratio of 18.0%, and Chevron reported a ratio of 22.0%. These ratios indicate that XOM has less debt in its capital structure compared to CVX, placing XOM in a relatively comfortable leverage position.
As ExxonMobil reported a deficit of funds, it can boost its debt levels and sustain operations without rattling the market.
Shell and BP's leverage ratios stood at 31.0% and 40.0%, respectively, in 3Q17. A higher total-debt-to-total-capital ratio implies comparatively weaker balance sheet strength. When this situation occurs in a difficult economy, a company could find it difficult to repay debt and could be pressed into decisions such as divestments. Plus, the interest burden and debt-related covenants could impact a company's financials and operations.