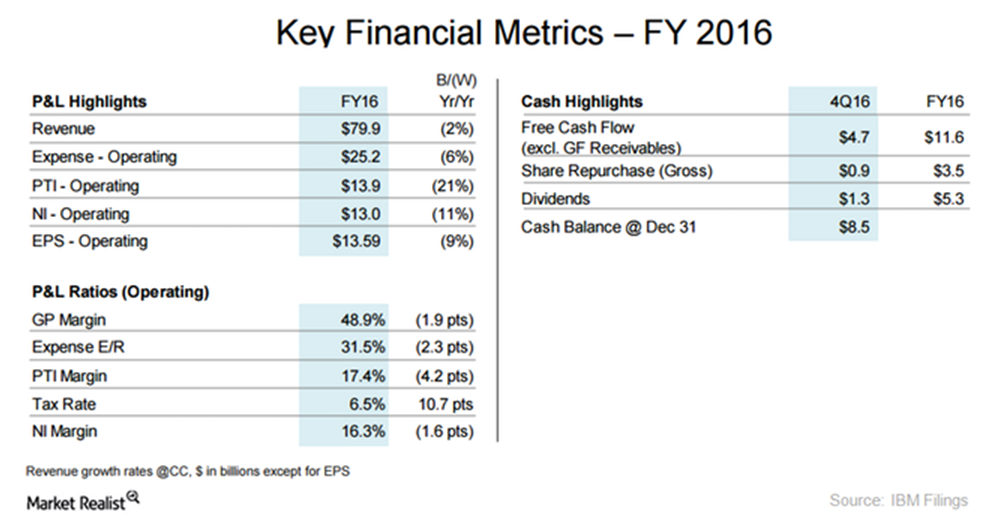 Chart in Focus: IBM's Financial Performance in 3Q17
Strategic Imperatives forms 45% of IBM's overall revenues
IBM's Cognitive Solutions and Systems segments reported growth of 2.0% and 10.0%, respectively. However, this growth could not put IBM back to revenue growth as its GBS segment and Technology Services and Cloud Platforms segment reported declining revenues. As a result, IBM reported a 1.0% decline in its 3Q17 revenues.
IBM's (IBM) focus on Strategic Imperatives continued in 3Q17. The segment's revenues rose 10.0% to $8.8 billion in fiscal 3Q17, with the majority of this growth driven by the cloud, which grew 20.0%.
Strategic Imperatives garnered $35.0 billion in revenues in the last 12 months. It now forms 45.0% of the company's overall revenues while the Cloud segment constitutes 20.0% of IBM's overall revenues.
IBM has already met its expectation of its Strategic Imperatives segment comprising 40.0% of its overall business by the end of 2017, with a value of ~$40 billion.
Article continues below advertisement
IBM's margins shrink
IBM's gross profit margin has been declining, standing at 47.6% in 3Q17 compared to 48.0% in 3Q16. Despite stringent cost-cutting measures, SG&A accounts for ~$4.5 billion per quarter.
IBM's spending on R&D has declined. In 3Q17, IBM spent ~$1.3 billion compared to ~$1.4 billion in 3Q16.
Companies usually turn to R&D to accelerate their cost initiatives. However, this could backfire in the dynamic technology sector. Reduced spending on R&D might give immediate cost reduction, but it could hamper growth.
Martin Schroeter, CFO of IBM, said that investments in cloud infrastructure are impacting the company's margins.
Key factors
Declining revenues and gross margins are key factors impacting market sentiment toward IBM stock. Growth in the company's Strategic Imperatives segment provides hope, as this segment will not only be instrumental in bringing the company back to revenue growth path but could also improve its margins.
In fiscal 3Q17, IBM's operating profit stood at $3.30 billion, marginally higher than the analysts' estimate of $3.28 billion. An increase in software sales, which is more profitable, and the surge in IBM's cloud business led to this improvement.