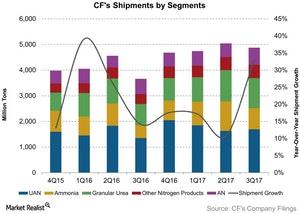 Why CF Industries' Shipments Grew in 3Q17
CF's shipments
In the previous part of this series, we saw how CF Industries' (CF) overall and segment sales performed in 3Q17. The company's growth was mainly driven by shipments growth. Each of CF's segments saw year-over-year growth in shipments, with the Ammonia segment coming out on top. Let's look at shipment growth in more detail.
Article continues below advertisement
Shipment growth
The Ammonia segment's shipments grew by as much as 64% year-over-year to 826,000 tons from 505,000 tons in 3Q16. The Granular Urea segment followed with a 42% year-over-year shipment growth to 1.2 million tons from 823,000 tons a year ago. The Other segment followed with 33% year-over-year to 518,000 tons from 389,000 tons.
The UAN (Urea Ammonium Nitrate) and the AN (Ammonium Nitrate) segments were in the bottom two places with regard to shipment growth. The UAN segment's shipment grew 2% year-over-year to $1.7 million tons from 823,000 tons in 3Q16, and the AN segment's shipments grew 12% year-over-year to 670,000 tons from 599,000 tons a year ago.
Why shipments grew
During the quarter, the company's shipments grew due to an increase in production capacity at CF Industries. This new capacity addition adds to the woes of producers (MOO) like PotashCorp (POT), Agrium (AGU), and CVR Partners (UAN), which have been hurt by oversupply.
Next, we'll see how CF Industries' prices performed.