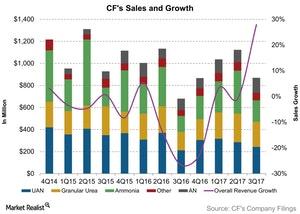 Why CF Industries' Sales Grew 28% in 3Q17
CF's sales rise
In 3Q17, CF Industries (CF) sales saw growth across each of its five segments year-over-year. Overall, the company's sales grew 28% year-over-year to $870 million from $680 million in 3Q16.
Article continues below advertisement
Performance by segment
Out of the five segments in the above chart, the UAN (Urea Ammonium Nitrate) segment saw the steepest growth year-over-year of 28% to $243 million from $212 million in 3Q16.
Next was the Granular Urea segment, which saw year-over-year sales growth of 26% to $228 million from $167 million, followed by the Ammonia segment, which experienced 22% year-over-year sales growth to $194 million from $145 million in 3Q16.
The AN (Ammonium Nitrate) segment was next with year-over-year sales growth of 16% to $135 million from $103 million over the same period, and the Other segment was at the bottom with year-over-year sales growth of 8% to $70 million from $53 million in 3Q16.
Why sales rose
Overall sales growth in the company's 3Q17 was mainly driven by 33% growth in shipments. However, weakness in prices continued to negatively impact the company. CF Industries is one of the lowest-cost producers, situated close to cheap natural gas. This advantage may have driven the company's 22% YTD (year-to-date) growth in its stock price. Compare this growth with rival companies (XLB) Terra Nitrogen (TNH), Agrium (AGU), and CVR Partners (UAN), which have underperformed CF Industries so far this year.