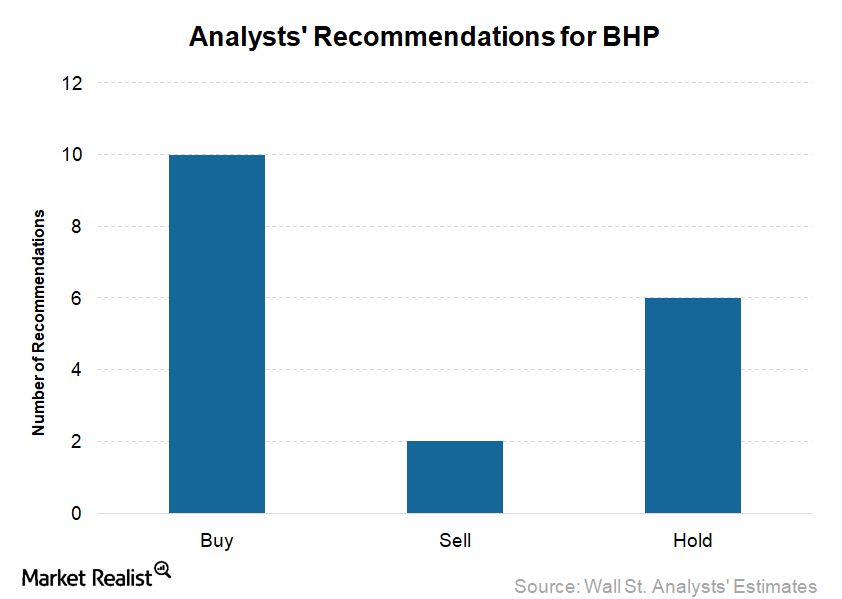 What's Causing Lukewarm Sentiment for BHP on Wall Street?
BHP's ratings
The majority of the ratings for BHP (BHP) are "buy" rating, at 56%. A total 18 analysts cover the stock currently, as per the consensus compiled by Thomson Reuters. Another 33% have "hold," and 11% have "sell" ratings.
The upside potential for the stock, based on its target price of $29.3, is 4.8%. The potential growth of its peers (XME), including Vale SA (VALE), Rio Tinto (RIO), and Freeport McMoran (FCX), is also positive.
Article continues below advertisement
Upgrades and downgrades
The latest rating change for BHP came from Exane BNP Paribas, which downgraded the stock from "neutral" to "underperform" on September 7.
On September 1, Raymond James Financial downgraded BHP from a "market perform" rating to an "underperform" rating.
RBC's downgrade and latest thesis
Commenting on BHP's September 2017 quarter performance, RBC Capital Markets' analyst Paul Hissey said that the quarter was an overall strong one for the company. Its higher copper output offset lower iron ore volumes. RBC views the small divestment of some Hawkville acreage by BHP as a positive. It values the overall US onshore business at $6.2 billion. The firm, however, continues to see BHP as expensive relative to its peers, and it maintained its "underperform" rating.
On August 31, RBC downgraded BHP from a "sector-perform" to an "underperform" rating. The main reason for the downgrade was concerns surrounding the company's maturing asset base, which RBC feels could impact its medium-term profitability.