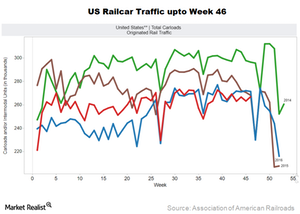 Carloads Fall, US Rail Freight Traffic Stalls in Week 46
Week 46: US rail freight traffic
US rail carriers' total rail freight traffic was up 1.2% in the week ended November 18, 2017, according to the AAR (Association of American Railroads). That week, US rail freight carriers moved 554,000 railcars, compared with 547,600 units in the week ended November 19, 2016.
US railroads' carload traffic fell 1.6% to around 267,000 carloads in the 46th week of 2017, compared with 271,300 units in the same week last year. However, intermodal volumes continued their upward journey. Intermodal traffic rose 3.9% to 287,200 units from ~276,400 units in Week 46 of 2016.
Article continues below advertisement
Commodity groups' ups and downs
Out of ten carload commodity groups, four reported a rise from the 46th week of last year. These commodity groups were metallic ores and metals, nonmetallic minerals, and chemicals (DOW). On the other hand, commodity groups that registered year-over-year volume losses comprised coal, grain, petroleum, and petroleum products (UNG).
Other North American freight volumes
Week 46 brought a mixed bag for Canadian rail carriers (CNI), which reported a 2.5% carload loss, moving 80,000 units in the week ended November 18, 2017. However, their intermodal volumes rose 8.5% to 68,500 units in the same week.
On the other hand, Week 46 proved better for Mexican railroads (KSU). Their railcar volumes rose 9.7%, and their intermodal traffic rose 10.3%. We'll start this series with a look at BNSF Railway (BRK-B), which has the highest freight rail traffic among US Class I railroads.