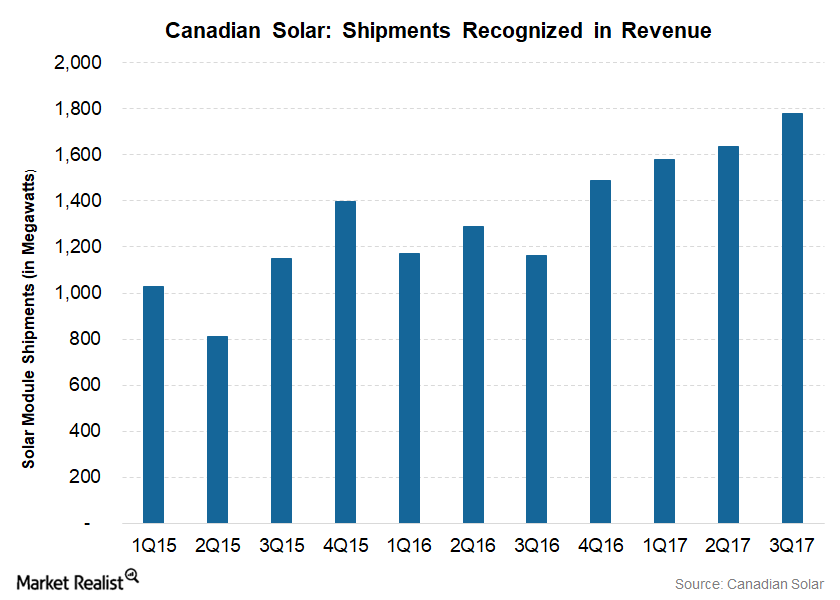 Why Canadian Solar's Shipments Rose during 3Q17
Canadian Solar's shipments
Canadian Solar (CSIQ) had a solar (TAN) module shipments guidance range of 1,650–1,700 MW (megawatts) for 3Q17. The company posted shipments of 1,870 MW, which was considerably higher than its 3Q17 guidance range.
Of the reported 1,870 MW, 1,782 MW of these shipments were recognized in CSIQ's revenues in 3Q17 compared to 1,638 MW recognized in its 2Q17 revenues and 1,161 MW recognized in 3Q16.
Canadian Solar also included the 12.6 MW of shipments used in its Total Solutions business in its 3Q17 revenues. In comparison, the company reported ~29.2 MW in 2Q17 and 16.3 MW in 3Q16.
Article continues below advertisement
Why the rise?
Canadian Solar's 3Q17 shipments were higher than the upper end of its 3Q17 shipments guidance by nearly 10.0%. According to the company's filings, the increase in its 3Q17 shipments was mainly due to strong demand for renewable energy in China.
Shipment outlook
After the release of its 3Q17 earnings results, Canadian Solar revised up its module shipments guidance for 2017. The company now expects about 6.7–6.8 GW (gigawatts) in solar module shipments in 2017, which is higher than its prior shipment guidance of 6.0–6.5 GW.
In 4Q17, Canadian Solar expects its solar module shipments to reach ~1.7–1.8 GW. Canadian Solar anticipates its revenues for fiscal 2017 to reach $4.05 billion–$4.09 billion.
Module shipments that are recognized in revenues, as well as the total annual revenues, are dependent on market conditions. Market conditions include average selling price trends and government policies for the sale of solar projects.
The environmental and trade policies and regulations of a variety of countries could cause uncertainties among downstream solar companies such as SunPower (SPWR), First Solar (FSLR), and SunEdison (SUNEQ).
In the next part of this series, we'll discuss Canadian Solar's 3Q17 revenues.