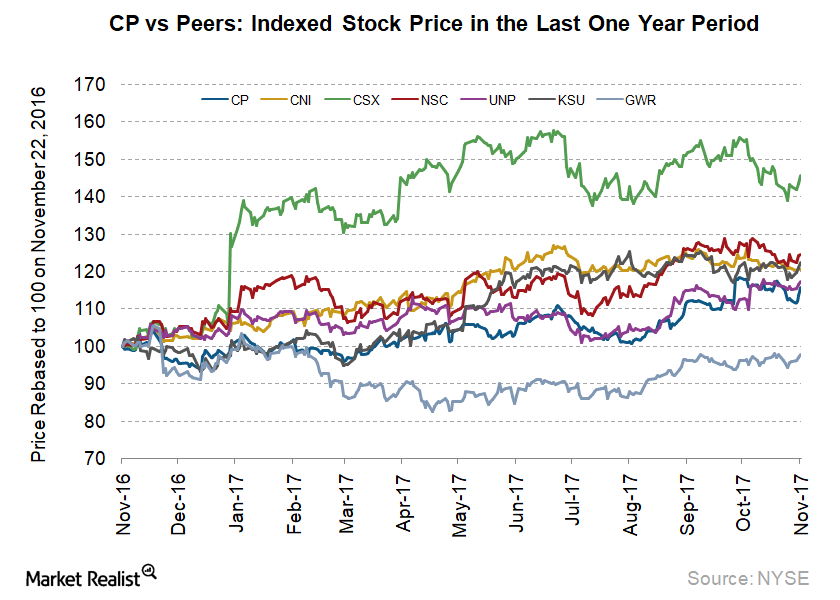 Canadian Pacific Railway Declares 4Q17 Dividend
CP's 4Q17 dividend
On November 22, Canadian Pacific Railway (CP), a Canadian-origin US Class I railroad (XLI), declared a quarterly cash dividend of $0.5625 Canadian per share on its outstanding common stock.
CP's quarterly cash dividend is payable on January 29, 2018, to stock owners at the close of business on December 29, 2017. The company's dividend is an "eligible" dividend for the Income Tax Act (Canada) and any similar provincial legislation.
Article continues below advertisement
CP's dividend history
Canadian Pacific Railway's dividend has remained unchanged since 2015. The annualized dividend was $1.4 Canadian per share. The company's quarterly dividend rose to $0.50 per share Canadian in the second quarter of 2016 from $0.35 Canadian paid earlier. Again it rose to $0.5625 in 2Q17 from $0.50 per share.
A quick look at Canadian Pacific's past dividends suggests that the company maintained a stable dividend of $0.35 Canadian per share from 2Q12 to the first quarter of 2016.
Canadian Pacific (CP) has around 145 million shares outstanding as of November 22. With a dividend payment of $0.5625 per share Canadian, CP's quarterly cash dividend should total ~$81.5 million Canadian. In fiscal 2016, the company paid dividends of $255.0 million Canadian.
CP's dividend policy
Canadian Pacific Railway maintains that it has no obligation to declare dividends. The company has the discretion to cease declaring dividends, or it may declare dividends not in line with the past dividend payment record. Class I railroads such as Canadian National Railway (CNI), Union Pacific (UNP), Norfolk Southern (NSC), and CSX (CSX) have similar dividend payment policies. Genesee & Wyoming (GWR), the largest short-line operator in the United States, has no policy of equity dividend payments.
About Canadian Pacific Railway
Canadian Pacific Railway owns and operates a transcontinental freight railway in Canada and the United States. CP moves merchandise freight, intermodal traffic, and bulk commodities over a network of ~12,400 miles. The company forays into the US heartland from the east and west coasts. Canadian Pacific's bulk commodities include potash, fertilizers and sulfur, grain, and coal.
In this short series on Canadian Pacific Railway's quarterly dividend, we'll look at the company's dividend payout, dividend yield, and growth. We'll check whether CP has enough free cash flow to support its dividend payment.