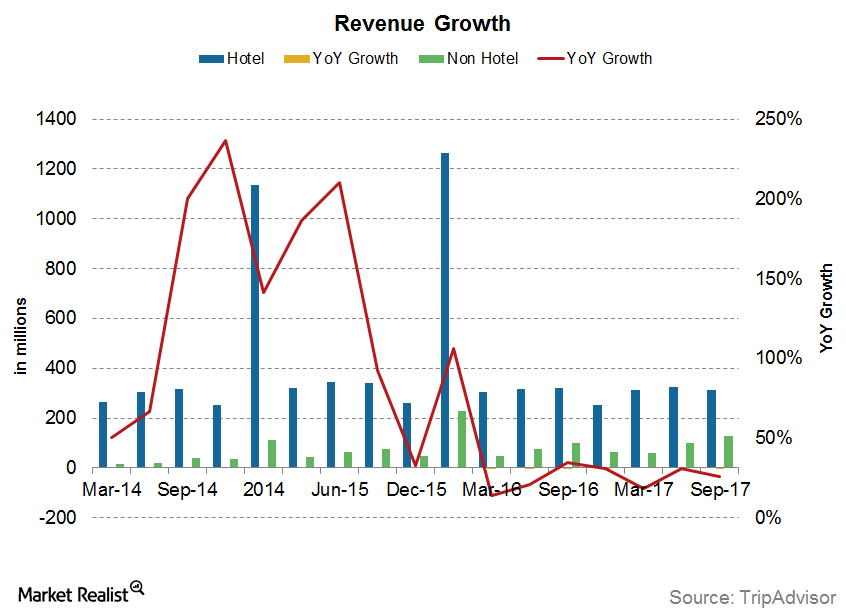 How Can TripAdvisor Overcome Weakness in Hotel Bookings?
TripAdvisor's revenue trend
In 3Q17, TripAdvisor's revenues grew 4.3% year-over-year (or YoY) to $439.0 million. This growth is slower than the 5.7% YoY and 8.4% YoY revenue growth seen in 1Q17 and 2Q17, respectively.
Article continues below advertisement
Weak hotel revenues cause concern
Hotel revenues, which still form 71.0% of TRIP's revenues, declined 3.0% YoY to $312.0 million. Hotel revenues have been declining since 2016 and are currently below the 2014 levels of $315.0 million.
Non-hotel revenues, which form the remaining 29% of TRIP's revenues, grew a strong 26% YoY to $127.0 million, helping offset its losses from the Hotel segment. The segment includes revenues from vacation rentals, restaurants, and attractions, and it continues to grow strongly.
What really happened?
Investors were hoping that TripAdvisor's increased TV advertising would help revive the Hotel segment revenues—and it did briefly improve in the first half of 2017, with 3.4% YoY growth.
However, 3Q17's decline has doused those hopes. Hotel revenues declined in the quarter despite spending almost $42.0 million on TV ads, much higher than the $16.0 million spent in 2Q17.
Two things have not worked in TRIP's favor. The first factor is the increasing efficiency of partners, which led to the huge decline in revenue per shopper and hotel revenues.
The second factor is that two of TripAdvisor's major advertising partners, Expedia (EXPE) and Priceline (PCLN), decided to look at alternative advertising channels other than major media such as television.
TripAdvisor's CEO, Stephen Kaufer, downplayed the impact in the company's recent earnings call. He stated that a few partners are interested in "buying more and more traffic on TripAdvisor." He added that he does not "detect any reluctance on the part of partner hotels or OTAs to invest in the meta-channel in general."
Investors can gain exposure to TripAdvisor by investing in the PowerShares NASDAQ Internet Portfolio ETF (PNQI), which holds 0.6% in TRIP. It also holds 7.1% in Priceline (PCLN), 3.3% in Ctrip International (CTRP), and 2.7% in Expedia.