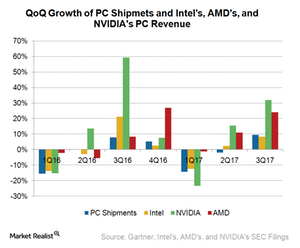 Can Intel Revive Its PC Revenue Growth through High-End Graphics?
Intel's history in graphics
Intel (INTC) is looking to make a comeback in the high-end, discrete GPU (graphics processing unit) market by bringing Raja Koduri to its team and partnering with its arch-rival, Advanced Micro Devices (AMD). Intel tried to build its own discrete GPU architecture, codenamed Larrabee, in 2006 but failed.
But Intel didn't back out completely from the graphics space. It offers integrated graphics cards inside its PC (personal computer) processors, and so it currently has a ~70% share of the overall GPU market. That said, Intel's graphics cards can only run casual games seamlessly, and they perform poorly in graphically intensive PC games.
Gaming enthusiasts are thus favoring computers that feature stand-alone discrete graphics chips from NVIDIA (NVDA) or AMD. In the discrete space, NVIDIA's GPUs dominate the market with a ~70% share because they are so popular among gaming enthusiasts.
Article continues below advertisement
Intel's Client Computing Group 
Meanwhile, global PC shipments have fallen from ~69 million units in calendar 3Q16 to 67 million units in 3Q17, according to Gartner. Amid the declining PC market, Intel has managed to increase its PC revenue by segmenting its offerings and focusing more on high-end PCs.
Intel's Client Computing Group's revenues rose 8.5% sequentially to $8.9 billion in fiscal 3Q17, while NVDIA's Gaming revenues rose 32% sequentially to ~$1.6 billion, and AMD's Computing and Graphics revenues rose 24.3% sequentially to $819 million during the same quarter.
Intel participates in the PC market by selling high-performance CPUs, NVIDIA by selling high-performance GPUs, and AMD by selling mid- and high-performance CPUs and GPUs. There's a difference in the PC revenue growth rate of the three companies because the gaming and notebook segment of the PC market is growing, while the overall PC market is declining.
The growth rate of the gaming segment is visible from NVIDIA's Gaming revenues, which have more than doubled from $760 million in 3Q15 to ~$1.6 billion in 3Q17 and is still growing in strong double digits. Although NVIDIA's $1.5 billion gaming revenues represent only ~20% of Intel's over $8 billion PC revenue, this revenue gap is shrinking.
Given NVIDIA's strong gaming revenues, Intel sees a growth opportunity in the high-end graphics market and has thus decided to enter this market once again.
Continue to the next part for a closer look at this opportunity.