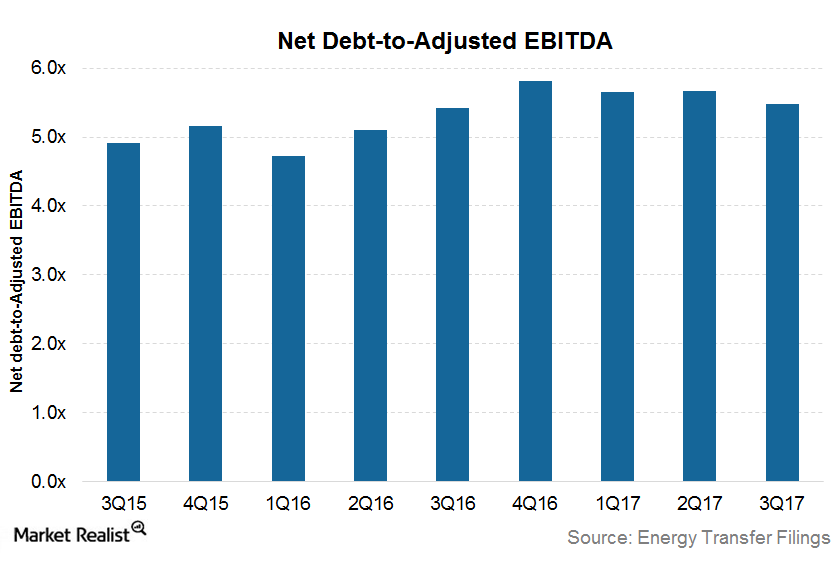 Can ETP's Recent Earnings Growth Bring Down Its Leverage?
Leverage position
Energy Transfer Partners' (ETP) EBITDA[1. Earnings before interest, tax, depreciation, and amortization] has grown by a massive 21.7% over the three quarters of 2017 so far. But was this EBITDA growth sufficient to bring down the partnership's leverage?
ETP ended 3Q17 with a total outstanding debt of $34.3 billion, which represents a 4.3% rise compared to the total debt by the end of last year. At the same time, Energy Transfer Equity (ETE) reported total outstanding debt of $45.2 billion at the consolidated level.
Article continues below advertisement
Based on ETP's 3Q17 EBITDA and total outstanding debt, the net debt-to-EBITDA comes out at 5.5x. The strong EBITDA growth has helped ETP lower its leverage. However, the partnership's leverage remains above industry standards. MLPs generally target a ratio between 4.0x and 4.5x. Yet investors might be looking for some more balance sheet strengthening measures from the partnership. These measures might include asset monetization, project stake sale, and JVs (joint ventures). Kinder Morgan (KMI) and Williams Companies (WMB) are among the big midstream companies plagued by bad financial positions. However, their situations have also improved considerably over recent quarters.
In the next part of this series, we'll look at the recent analyst recommendations for Energy Transfer Equity and Energy Transfer Partners.