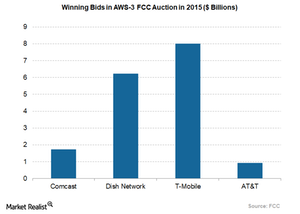 How Dish Network Fits in with Wireless Carriers as Potential Partners
Dish Network's spectrum holdings
Article continues below advertisement
Dish Network as an acquisition target
Given its vast spectrum holdings, Dish Network looks like a good acquisition target for wireless carriers AT&T (T) and Verizon (VZ), which have been looking for opportunities to grow their broadband coverage.
Comcast (CMCSA) recently launched a wireless service and could use the airwaves it acquired through the auction to strengthen that business. The abandoned T-Mobile and Sprint merger deal may have also created more options for Dish Network.
Dish Network believes these spectrum licenses could help the company transition into a wireless Internet business with the IoT (Internet of Things). Dish Network is in the process of buying network gear and is in advanced talks with tower companies for its network.
The company expects to offer wireless Internet service that could come after 2020. The company also intends to provide 5G (fifth-generation) technology services.
Dish Network added net 16,000 pay-TV subscribers in 3Q17. The company had ~13.2 million pay-TV subscribers, down from 13.6 million in 3Q16.
Despite the decline in pay-TV subscriber numbers, the company believes that its wireless spectrum can still make it attractive enough for a potential acquisition.