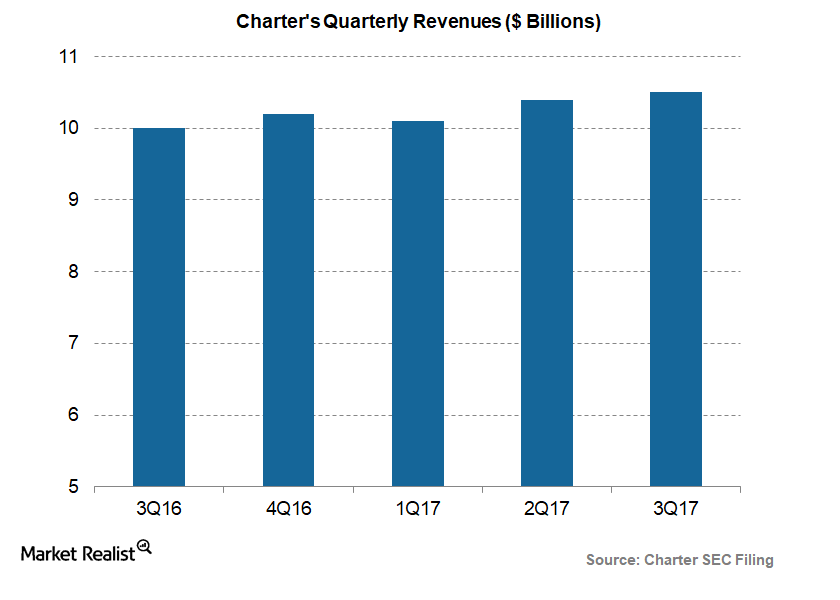 How Charter Communications Stands as an Acquisition Target
SoftBank is still interested in Charter
Despite being refused previously for a deal, Japanese conglomerate SoftBank, the majority stakeholder in Sprint (S), is still mulling over buying Charter Communications (CHTR), as reported by CNBC. According to reports, SoftBank was prepared to acquire cable company Charter Communications in July and had decided to bid $540.00 per share in cash and stock.
That time, SoftBank would have also added Sprint shares to the new company at ~$10.00 per share. Liberty Media and its chairman, John Malone, who held an ~27.0% stake in Charter Communications, had shown interest in the SoftBank offer.
Article continues below advertisement
According to news sources, Liberty Media's broadband operations would have been rolled into the new company. However, Charter Communications did not agree to the deal. In July 2017, Charter Communications had rebuffed SoftBank's merger proposal, as Charter believed the deal was not a strategic fit for its long-term plan.
Also, Charter Communications and Comcast (CMCSA) had a mobile resale arrangement with Verizon (VZ) that would allow them to launch their wireless operations using Verizon's network.
Despite missing its top-line and bottom-line expectations, Charter Communications performed well in 3Q17 on a year-over-year basis. Its revenues grew 4.2% year-over-year in 3Q17, up from ~3.0% growth in 3Q16.
SoftBank trying to get deals for Sprint
SoftBank has conducted several merger attempts. It has had discussions with T-Mobile (TMUS), Comcast, and Charter Communications for a merger possibility, as well as any investment in Sprint, but wasn't able to complete a deal.
The merger talks between Sprint and T-Mobile also fell apart, as both the parties did not settle on an agreement over governance and control issues. Sprint carries a heavy debt load and has been struggling with profitability over the last few quarters.