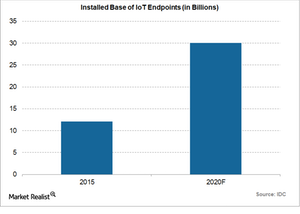 Broadcom's Rationale behind the Qualcomm Acquisition
Qualcomm is a dominant player in the chipset market
Broadcom (AVGO) is still looking forward to buying Qualcomm (QCOM), even though the latter has scrapped its acquisition plans, considering the deal to be unfavorable for its shareholders.
Qualcomm is one of the largest semiconductor companies with a significant presence in sectors like automotive, healthcare, Internet of Things (or IoT), networking, and mobile computing.
Qualcomm has become a key player in the 5G space and has teamed up with Verizon Communications (VZ) and Novatel Wireless to develop 5G NR mmWave technology.
Qualcomm is also the leader in making chips for IoT, an upcoming area in the tech industry for connecting devices. The chart above shows the rapid growth expected in the IoT installed base.
Article continues below advertisement
Deal would benefit both parties
Broadcom believes that a combined company would merge Qualcomm's cellular and wireless-based semiconductor business with Broadcom's smartphone chip technology, data storage, and electronic display business.
Broadcom expects cost synergies of around $0.7 billion–$1.3 billion. The combination of two semiconductor giants would also widen their scales of operation and deliver more advanced semiconductor solutions to their respective global customers.
The acquisition would help Broadcom become the dominant global supplier of chips. Broadcom, together with Qualcomm and NXP, would have control over Wi-Fi, Bluetooth, modems, and 3G/4G and 5G LTE (long-term evolution).
Broadcom can also be of great help to Qualcomm to settle its legal disputes with iPhone maker Apple (AAPL), as Apple is Broadcom's top customer. Notably, Apple has sued Qualcomm for unfair patent-licensing practices and had stopped paying royalties.
Apple has now started sourcing chips from Intel (INTC). Qualcomm is also facing several lawsuits from various regulators, which is hurting its profits.