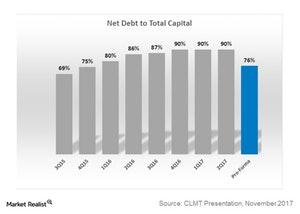 Calumet Specialty Expects Lower Capital Spending in 2018
Reduced leverage
According to Calumet Specialty Products Partners (CLMT), its pro forma net debt-to-total capital ratio after selling the Superior refinery is 76%—down from 90% at the end of 2Q17. Calumet Specialty received a total consideration of $492 million for the sale. It included "the sale price of $435 million, and an additional $57 million for net working capital, inventories, and reimbursement of certain capital spending."
Article continues below advertisement
Expected capital spending
According to Calumet, its fuels business is capital intensive. The company expected to spend nearly $100 million on the Superior refinery in 2018. The sale decreases the company's exposure to the capital-intensive business.
"Our capital intensity decreases because our specialty facilities do not require the same level of turnaround and maintenance, as do our fuels refineries," said Tim Go, Calumet Specialty's CEO, in the company's conference call.
Calumet Specialty lowered its 2017 capital expenditure guidance from $110 million–$130 million to $85 million–$95 million.
It also provided a guidance of $80 million–$90 million of capital expenditures for 2018. The above graph shows Calumet Specialty's capital expenditures in the last three years as well as the forecasts for 2017 and 2018.