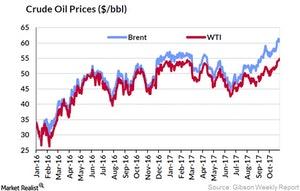 Where Bunker Fuel Prices Are Headed, Oil Prices Crossed $60
By Sue Goodridge

Updated
Week 44
Previously in this series, we saw that the crude (DBO) tanker index fell in week 44 (week ending November 3, 2017). VLCC (very large crude carrier), Suezmax, and Aframax rates fell amid weak demand. In this part of the series, we'll see how crude oil and bunker fuel prices fared in week 44.
Article continues below advertisement
Crude oil prices
In week 44, crude oil prices crossed the $60 per barrel mark for the first time in the last two years due to market expectations of an extension of OPEC's production cuts. Also, falling US crude oil inventories despite growing production have supported the prices. According to the U.S. Energy Information Administration, US crude oil stockpiles saw a drawdown of 2.4 million barrels from last week. Brent crude oil prices rose from $59.3 per barrel on October 27, 2017, to $60.62 per barrel on November 3, 2017.
Bunker fuel prices
On November 3, 2017, the average bunker fuel price was $398 per ton—compared to $376 per ton on October 26, 2017. According to the Gibson report for week 44, the bunker fuel prices at Rotterdam were $349 per ton on November 3, 2017—compared to $322 per ton the previous week. The bunker fuel prices at the Port of Fujairah rose to $363 per ton on November 3—compared to $343 per ton on October 26, 2017, according to the same report.
Which companies are impacted?
Industries that transport products on ships incur bunker fuel costs. These industries are LNG (liquefied natural gas) carriers, product tankers, dry bulk carriers, and crude oil tankers. Bunker fuel prices are closely related to oil prices. A rise or fall in oil prices translates to a rise or fall in bunker fuel prices.
Some of the major crude oil tanker companies are Nordic American Tankers (NAT), Gener8 Maritime Partners (GNRT), Euronav (EURN), and Teekay Tankers (TNK). GasLog and Hoegh LNG Partners (HMLP) are LNG carrier companies. Navios Maritime Partners (NMM) is a major dry bulk shipper.