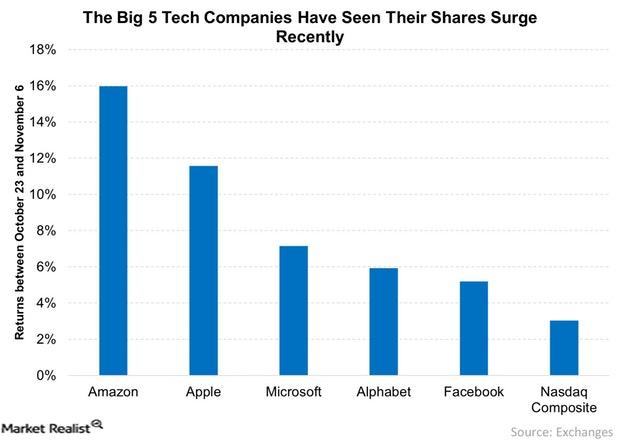 How the Big 5 Tech Companies Fared in the Earnings Season
The Big 5 tech companies managed to beat estimates
During the last week of October and the first week of November 2017, the biggest tech (technology) stocks—Apple (AAPL), Alphabet (GOOG), Microsoft (MSFT), Amazon (AMZN), and Facebook (FB)—reported their quarterly results.
Each of these so-called Big 5 tech companies reported stellar earnings. All of them beat analysts' earnings and revenue expectations.
Earlier this year, the Big 5 had an aggregate market cap of a staggering $3 trillion. The five companies are now worth close to $3.3 trillion. Apple alone has a market cap (capitalization) of ~$900 billion.
Article continues below advertisement
How the Big 5 tech companies fared
The graph above shows the returns for the Big 5 stocks since October 23, 2017. Amazon stock has soared a staggering 16.0% in that period, while Apple stock has risen 11.5%. The Nasdaq Composite Index (QQQ) has risen 3.1%.
Google parent Alphabet generated revenues of $27.8 billion, rising 24% YoY (year-over-year) since the company saw an increase in per-click revenue on a sequential basis. Microsoft saw its revenue rise 12% YoY to $24.5 billion in the most recent quarter, driven by Azure, its cloud segment. Amazon's revenues rose 34% YoY to $43.7 billion, driven by Amazon Web Services, which continues to rise more than 40% despite its size. Facebook reported revenue of $10.3 billion, a 47% rise YoY since it managed to increase both its user base and revenue per user.
These companies are continuing to grow at a very impressive rate, taking the indexes along with them.