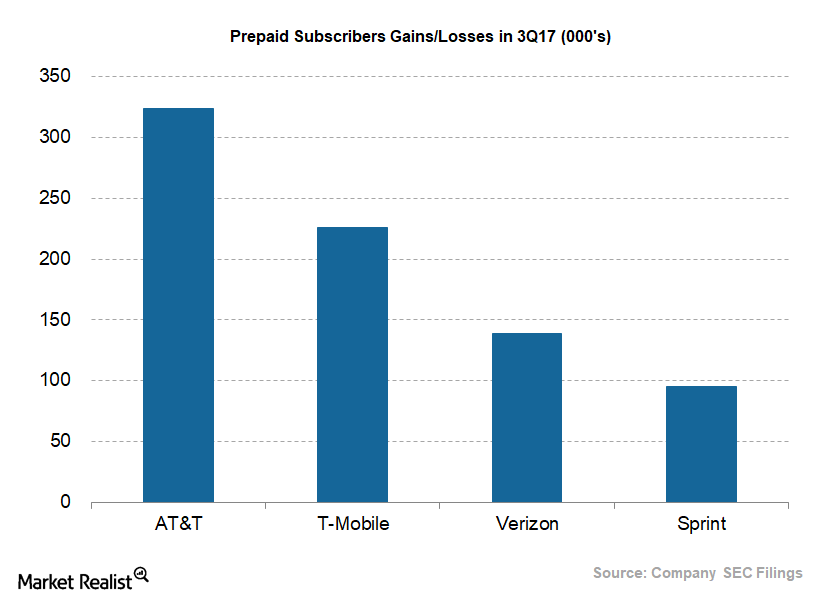 Behind Verizon's Prepaid Net Additions in 3Q17
Verizon's prepaid customer net additions in 3Q17
Verizon Communications' (VZ) management believes that the prepaid market is an area of opportunity and is thus looking to take a more aggressive stance in the prepaid space.
While Verizon gained only 139,000 prepaid net subscribers in 3Q17, this was a significant improvement compared with its 83,000 prepaid subscriber net additions in 3Q16. This improvement was primarily due to an increased focus on this segment of the market.
Expenses associated with prepaid customers are much lower than the costs associated with postpaid customers, which makes them more profitable. Acquisition costs, maintenance expenses, and upfront expenses are all lower for prepaid customers.
Article continues below advertisement
Peer prepaid net addition comparison
In 3Q17, T-Mobile (TMUS) and AT&T (T) gained 226,000 and 324,000 net prepaid subscribers, respectively. Sprint (S) reported 95,000 prepaid subscriber net additions in fiscal 2Q17 (quarter ending September 2017).
At the end of calendar 3Q17, Verizon's retail postpaid base was the largest among the top four US wireless carriers, while Verizon had the smallest prepaid base among these players.
T-Mobile's prepaid subscriber base was largest at 20.5 million customers. AT&T and Sprint followed with 15.1 million and 8.8 million prepaid customers, respectively. Verizon had 5.6 million prepaid subscribers.