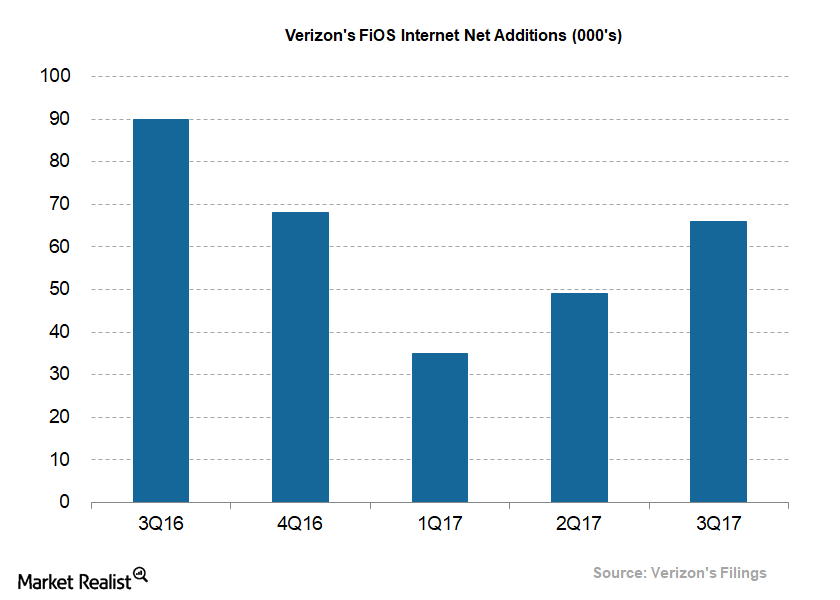 Behind Verizon's Fios Service
Verizon's Fios net additions in 3Q17
In the previous part, we looked at a few pay-TV market trends that are impacting Verizon (VZ). The company is managing the secular challenges of the pay-TV market by focusing on its Internet offering through Fios. In 3Q17, Verizon added 66,000 Fios Internet customers compared to 90,000 net additions in 3Q16. However, the net gains in Fios Internet connections in 3Q17 were offset by declining Internet connections based on DSL (digital subscriber line). The decline in total broadband customers was mainly driven by competitive pressure from cable companies such as Comcast (CMCSA) and Charter (CHTR) since they managed to add the most Internet subscribers.
Article continues below advertisement
Verizon's Fios Gigabit Connection
During Verizon's recent 3Q17 earnings conference call, management highlighted that its Fios Gigabit Connection launched earlier this year in certain markets continues to gain traction, offering speeds up to 1 Gbps (gigabit per second).
Verizon's Fios Internet penetration decreased by 20 bps (basis points) to 40.2% in 3Q17 compared to 40.4% in 3Q16. Fios Internet customers grew ~3.9% on a year-over-year basis to ~5.8 million at the end of 3Q17.