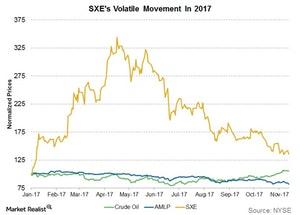 Behind Southcross Energy Partners' Rise in 2017
The acquisition
Southcross Energy Partners (SXE) has risen nearly 36% so far in 2017. Notably, the stock, which is currently trading near $1.87, traded well above $20 in mid-2014. On November 1, 2017, American Midstream Partners (AMID) announced the acquisition of Southcross Energy Partners, along with certain assets of Southcross Holdings. In total, the two transactions are valued at ~ $815 million, including the repayment of debt.
Post-acquisition, the pro forma partnership is expected to have an enterprise value of $3 billion and generate annualized adjusted EBITDA (earnings before interest, tax, depreciation, and amortization) above $300 million in 2018.
Southcross Energy Partners unitholders will receive 0.16 AMID units for each SXE unit, which represents a 5% premium to AMID and SXE units' 20-day volume weighted average exchange ratio on October 30, 2017. The transaction is expected to close in the second quarter of 2018.
Article continues below advertisement
Southcross Energy Partners provides natural gas gathering, processing, compression, and transportation services and NGL (natural gas liquid) fractionation and transportation services. Southcross Energy Partners has not paid any distributions since 4Q15. Sustained low commodity prices have severely impacted Southcross Energy's operations.
Liquidity
In December 2016, Southcross Energy Partners received a waiver from its lenders for all events of default arising from failure to comply with a leverage ratio debt covenant. This covenant waiver will expire on March 31, 2019, at which point SXE anticipates that substantial equity will be required to meet the covenant requirement. Aside from this additional equity, all of SXE's and Southcross Holdings' debt will become immediately due and payable. Under the proposed merger transaction with American Midstream Partners, all of the SXE and Southcross Holdings debt is required to be repaid at the closing of the transaction.