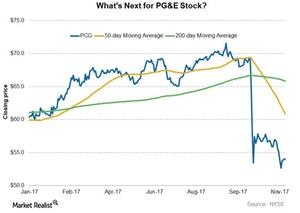 Behind PG&E's Chart Indicators
PCG's moving averages
PG&E (PCG) stock continues to look weak based on its key moving average levels. On November 27, 2017, PCG was trading 10% and 18% below its 50-day and 200-day moving average levels, respectively.
The huge discount to both moving averages underlines the weakness in the stock. In the short term, PCG's 50-day moving average level of ~$60.53 is likely to act as a key resistance for the stock. It's now trading at $54.19.
Article continues below advertisement
Relative strength index
The RSI (relative strength index) level of PG&E stock is now ~38. According to technical analysts, RSI values below 30 suggest that a stock is trading in the oversold zone, while values above 70 mean that the stock is trading in the overbought zone. RSI values at extremes show an imminent reversal in the stock.
Notably, PG&E stock hit a 52-week high of $71.57 in September 2017. Since then, it has corrected ~25%.
Some investors may view PCG's huge stock fall as an opportunity to invest, given its fairly cheaper valuation. It now has an EV-to-EBITDA (earnings before interest, tax, depreciation, and amortization) multiple of 7.2x, while the industry average (XLU) (IDU) is close to 11x. PCG's five-year historical average valuation is ~9x.
Thus, given both its historical and industry average valuation, PG&E appears to be fairly cheap. You can learn more about its valuation in Market Realist's "Is PG&E's Discounted Valuation an Opportunity?"
Continue to the next part for a look at PG&E's price targets.