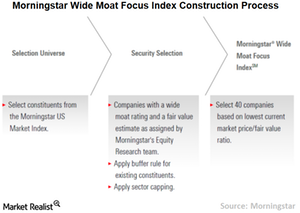 Understanding the Moat Investing Philosophy
VanEck
The performance of VanEck Vectors® Morningstar International Moat ETF (MOTI®) tells an impressive story about the importance of not only identifying quality companies with sustainable competitive advantages but also factoring in valuation to determine the right entry points. These are the basic tenets of Morningstar's moat investing philosophy, which is based on the economic moat concept that can be traced back to Warren Buffet.
Morningstar has a history of well-regarded U.S. equity research and has built a similar reputation in markets outside the United States. An international strategy based on the firm's rigorous equity research process has performed well in recent years.
Article continues below advertisement
Market Realist
Economic moat
Moat investing refers to companies' ability to stay ahead of the competition by maintaining a sustainable growth rate while defending their market share from competitors. Moat companies (EMR)(BMY) have a competitive advantage that helps them create long-term value for all the stakeholders involved in the business. A competitive advantage could range from access to cutting-edge technology, the availability of quality raw materials at a cheaper rate, a strong brand, or product and service differentiation.
Identifying an economic moat
Morningstar's research and investment approach is based on the concept of economic moats (MOAT). To identify economic moats, it's important to look at a company's historical performance, such as Amazon (AMZN) or Wells Fargo (WFC). According to Morningstar, for the companies that have consistently generated returns on capital above their cost of capital, and if their returns on capital is rising steadily, then it's safe to assume they have developed an economic moat.
Note here that a company's competitive advantage should be sustainable over an extended period. If not, then competitors might encroach on the company's targeted area over a period, which would affect the company's long-term revenue visibility.
Morningstar believes buying a stock is akin to buying a portion of a company's business. As a result, a comprehensive evaluation of a business is necessary in order to ensure long-term gains from investing.