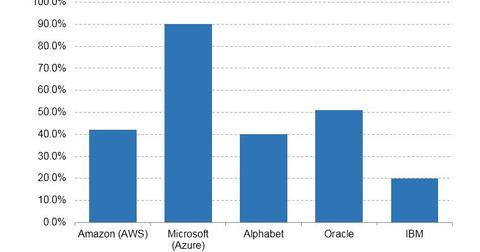 Behind Amazon's Investment in Cloud Education
By Neha Gupta

Updated
Amazon launches machine learning training program
Amazon.com (AMZN), through its cloud computing division, Amazon Web Services (or AWS), recently announced the launch of a new collaboration and education program, Amazon ML Solutions Lab. ML, short for machine learning, is a component of AI (artificial intelligence).
Through the ML lab, AWS plans to train its customers on how to identify the practical applications of machine learning technology in their businesses. AWS will also guide customers in developing machine learning features, products, and processes.
World Bank Group among first to join the training program
The training is projected to involve hands-on workshops and brainstorming sessions to help customers develop machine learning solutions to address their business challenges. Amazon noted that it will deploy its machine learning experts to train the customers.
Amazon said that Johnson & Johnson (JNJ), World Bank Group, and the Washington Post, which is associated with Amazon chief executive Jeff Bezos, were the first to join the machine learning education program.
Fending off cloud competition
Amazon's machine learning training program appears to fit with the company's goal to increase the usage of its cloud computing and fend off growing competition. A lot of competition has been aimed at Amazon, however, and the company needs to figure out how to stay ahead of the competition in order to grow or, at least, preserve its market share.
Amazon recently announced that it had taken a large piece of cloud business from security vendor Symantec (SYMC). But the Wall Street Journal also reported last year that Amazon may have lost some of Apple's (AAPL) cloud business to Alphabet's (GOOGL) Google.
Amazon's cloud business grew 42% YoY (year-over-year) in 3Q17, compared with the 90% YoY growth of Microsoft's Azure cloud business.