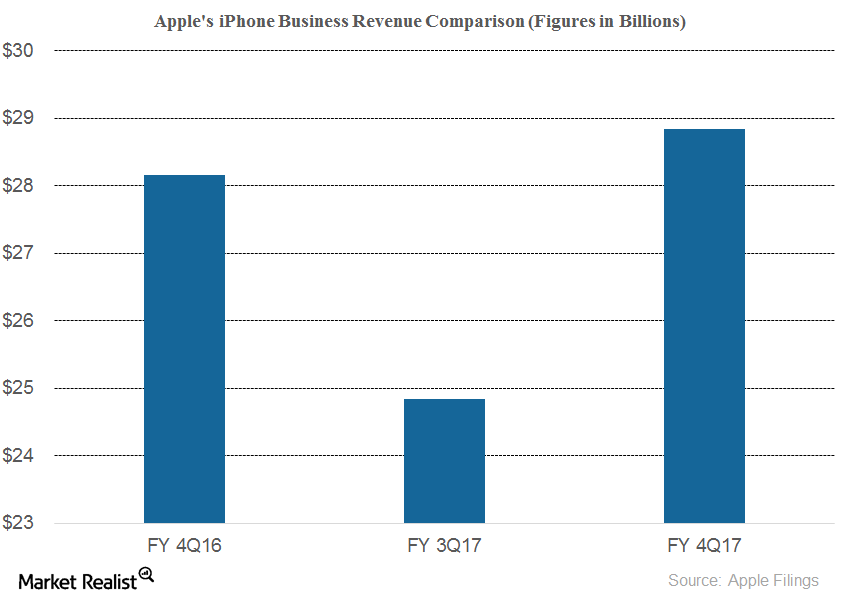 How Apple's iPhone Segment Performed in Fiscal 4Q17
iPhone unit sales rose 3.0% YoY in fiscal 4Q17
The iPhone business is Apple's (AAPL) largest segment and accounted for 55.0% of its total revenues in fiscal 4Q17. Apple's iPhone segment reported revenues of $28.8 billion in fiscal 4Q17, a rise of 2.0% YoY (year-over-year) compared to revenues of $28.1 billion in fiscal 4Q16.
iPhone shipments also rose 3.0% YoY in fiscal 4Q17 to 46.7 million units from 45.5 million units in fiscal 4Q16. The average selling price (or ASP) for iPhones was $618.10 in fiscal 4Q17, similar to its fiscal 4Q16 ASP of $618.80.
Apple CEO Tim Cook stated, "iPhone sales exceeded our expectations. In the last week and a half of September, we began shipping iPhone 8 and iPhone 8 Plus to customers in more than 50 countries."
In fiscal 3Q17, sales for the iPhone 7 and iPhone 7 Plus rose in double digits. Apple has now sold more than 1.2 billion iPhones in the last ten years.
Article continues below advertisement
Analysts estimated sales of 46.0 million iPhones in fiscal 4Q17
Analysts previously expected Apple to sell 46.0 million iPhones in the quarter ended September 2017. Gene Munster of Loup Ventures expected sales of 39.0 million units, which was ~16.0% lower than the actual figure.