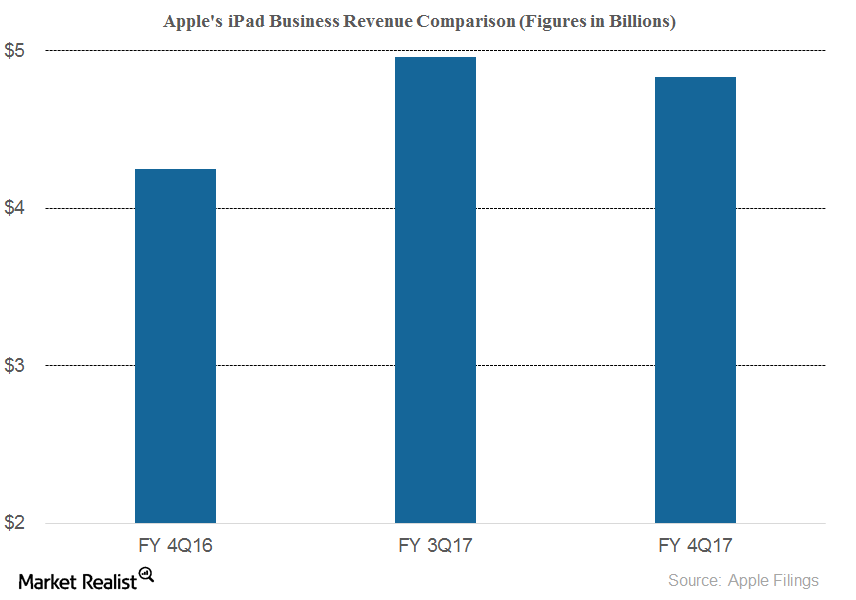 Apple's iPad Sees Growth in Revenue and Shipments for Fiscal 4Q17
iPad's revenues rose 14.0% YoY in fiscal 4Q17
Apple's (AAPL) iPad business segment revenues rose 14.0% YoY (year-over-year) to ~$4.8 billion in fiscal 4Q17, up from ~$4.2 billion in fiscal 4Q16. Apple shipped 10.3 million units in 4Q17, an 11.0% YoY rise in shipments compared to ~9.3 million units in fiscal 4Q16. iPad's revenues rose YoY for the second consecutive quarter since 2013.
In fiscal 3Q17, Apple's iPad revenues rose 2.0% YoY, compared to a 15.0% rise in shipments. Excluding the holiday quarter, fiscal 3Q17 was also the iPad's best quarter for revenues in the last two years. The average selling price of the iPad in fiscal 4Q17 rose to $468.00 from $459.50 in fiscal 4Q16.
Article continues below advertisement
iPad sales rose significantly in emerging markets
Apple's CEO, Tim Cook, stated during the fiscal 4Q17 earnings call, "It was also another great quarter for iPad. We sold 10.3 million units, up 11% over last year with strong demand for both iPad and iPad Pro and revenue grew 14%."
iPad's revenues rose in all geographic segments. Among the emerging markets (EEM), China (FXI) and India (INDA) saw a YoY shipment rise of 25.0% and 39.0%, respectively, in 4Q17.
According to an NPD Group market research report, iPad had a 54.0% share in the US tablet market at the end of fiscal 4Q17, up from 47.0% in fiscal 4Q16. Apple sells seven of the ten best-selling tablets.
Additionally, 451 Research stated that customer satisfaction measured across iPad models stands at 97.0%. Plus, the purchase intent for people planning to buy tablets was more than 70.0% for both enterprise and individual customers.