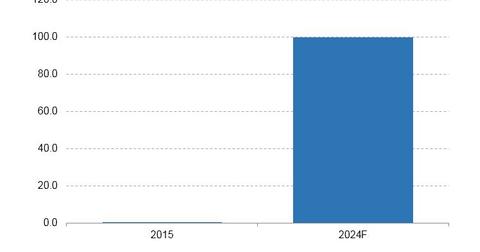 Why Apple Acquired AR Hardware Maker Vrvana
By Ruchi Gupta

Updated
Apple reportedly paid $30 million for Vrvana
Apple (AAPL), the US-based (SPY) global leader in smartphones, recently acquired a startup that specializes in AR (augmented reality) headsets, according to a report by TechCrunch. According to the report, Apple acquired Canada-based Vrvana for ~$30 million.
Vrvana developed an advanced AR headset called Totem that received positive reviews. Totem, which was reportedly designed to run Microsoft's (MSFT) Windows 10 OS (operating system), never shipped.
Article continues below advertisement
Standalone AR headset in the works
Before it emerged that Apple had acquired Vrvana, Bloomberg reported that Apple was quietly developing a standalone AR headset that could launch in 2019 and go on sale in 2020. Apple's secretive AR device is said to be codenamed "T228." It suggests that Apple is hoping for success in a field where Alphabet's (GOOGL) Google struggled with the original Google Glass a few a years ago.
Apple hardly speaks about its product plans or its acquisitions. The report stated that the company declined to comment on the Vrvana acquisition. Apple executives have stated that AR has bright prospects and that the company would like to be part of the AR economy.
Pursuing revenue in the AR market
Apple's chief executive Tim Cook stated that AR could be a big idea like the smartphone. Apple generates most its revenues from iPhone sales. Comparing AR with smartphones suggests that Apple views AR as a potentially lucrative market.
According Grand View Research, worldwide AR sales, including hardware and software sales, would be worth $100.2 billion by 2024. The market was estimated to be $640.2 million in 2015. Therefore, Apple might hope that Vrvana will enhance its opportunities in AR market.