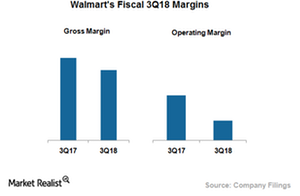 Analyzing Walmart's Fiscal 3Q18 Margins
Gross margin continues to slump
Walmart's (WMT) profit margins continue to slide despite the company's improving sales due to higher traffic and average ticket size. Its value pricing and investments in its e-commerce business are hurting its margins growth rate.
In fiscal 3Q18, Walmart's gross profit margin contracted 29 basis points to 25.7%. Its investment in price and its growing share of digital business in the sales mix more than offset the benefits stemming from an improvement in sales. Also, the recent hurricanes negatively impacted the gross margins rate.
Article continues below advertisement
By segment, Walmart's US (SPY) segment witnessed a decline of 36 basis points in gross profit margins. Lower pricing, an unfavorable mix, and hurricane-related issues dented its profitability. Gross margins for the International segment fell 18 basis points, reflecting price investments in certain markets. Gross margins for Sam's Club's decreased 13 basis points, reflecting a reclassification of fresh supply expenses, increased shipping costs, and investments in cash rewards.
Peer performances
Walmart's peers include Target (TGT), Costco (COST), and Kroger (KR), which are also witnessing sluggish margins. Increased price investments to fend off the growing competition from Amazon (AMZN) is taking a toll on these companies' profit margins. Target's (TGT) gross margin fell 10 basis points due to lower pricing and higher digital fulfillment charges. Costco's fiscal 4Q17 gross margins contracted 15 basis points due to increased price investments. Kroger's profit margins also remain pressured from increased competition.
Operating margin remains weak
Walmart's operating profit margin decreased 50 basis points to 3.9% during the quarter, reflecting lower gross margins and increased investments in the business. Going forward, the company's profit margins are expected to remain muted, given price investments and the growing mix of e-commerce sales.