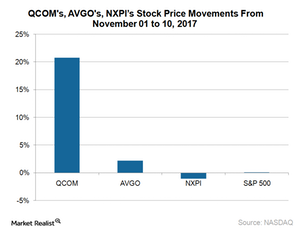 Behind the Stock Price Movements of Qualcomm and Broadcom in November
By Puja Tayal

Nov. 17 2017, Published 5:25 p.m. ET
A very active week for Broadcom's and Qualcomm's investors 
Qualcomm (QCOM) and Broadcom (AVGO) investors have seen a lot of surprises over the past 15 days. Qualcomm's shares fell 22% since the start of calendar 2017 due to its legal dispute with Apple (AAPL), which is negatively impacting the chipmaker's profits.
On November 01, 2017, Qualcomm released its fiscal 4Q17 earnings, in which it reported better-than-expected earnings. This saw the company's shares rise 7.5% in the first two days of November. On November 2, 2017, Broadcom's chief executive announced that the company would be shifting its headquarters from Singapore (EWS) to the US, which saw its stock price fall 1.7% in the first two days of November.
Article continues below advertisement
Stocks of Qualcomm and Broadcom react to bid offer
Then came the big news. A Bloomberg report released on November 3, 2017, stated that Broadcom had made a bid for Qualcomm for over $100 billion. The rumor saw Qualcomm stock rise as much as 19%—its biggest intraday move since October 2008—and then close at $61.8, up 13% from November 2, 2017. Broadcom's stock rose 5.4%.
The rumor was followed by an official announcement of the bid by Broadcom on November 6, 2017. Qualcomm acknowledged the receipt of the offer and stated that it would assess the proposal with its board of directors, financial and legal advisors.
However, media reports stated that Qualcomm's initial reaction to the offer had been negative, with company officials questioning the $70 offer price and the antitrust issues that the deal would likely attract.
On November 13, 2017, Qualcomm's board rejected Broadcom's offer on the grounds that the offer drastically undervalued Qualcomm and would attract regulatory scrutiny. On the same day, Broadcom stated that it would remain determined to acquire Qualcomm and has received a positive response from the latter's shareholders. This saw Qualcomm's share rose 3% to $66.5, while Broadcom's shares remained unchanged.