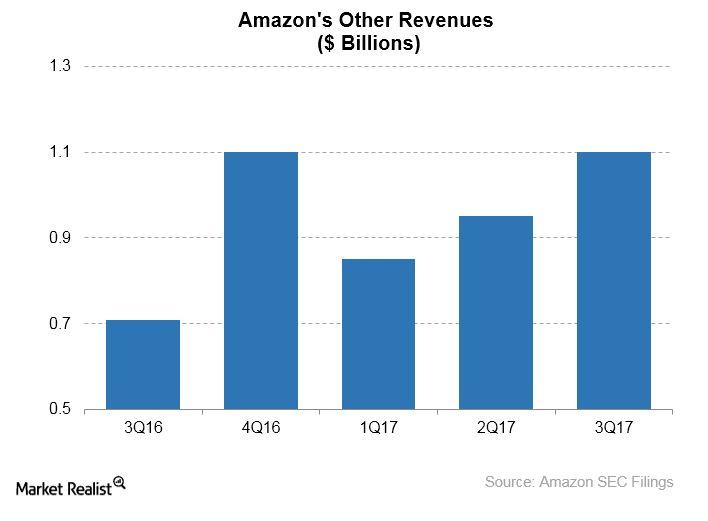 Analyzing the Performance of Amazon's Ad Business
Digital ads presents $335 billion revenue opportunity
According to market intelligence firm eMarketer, the global digital advertising market could grow to $223.7 billion in 2017 and then grow again to $335.0 billion by 2020. The market was valued at $194.6 billion in 2016.
Alphabet (GOOGL) and Facebook (FB) dominate the digital advertising industry, and Amazon (AMZN) is one of their challengers vying for a piece of the multibillion-dollar advertising market.
Although Amazon doesn't break out its advertising revenues, analysis of its Other category, which includes advertising sales, could provide clues regarding the growth of its advertising business.
Article continues below advertisement
Advertising segment revenues up 58%
In 3Q17, Amazon's Other category revenues grew 58% YoY (year-over-year) to a little over $1.1 billion. Revenue growth in this category accelerated from its 53.0% YoY growth recorded in 2Q17.
Amazon's Other category was the second-fastest-growing Amazon revenue category in 3Q17. It was second only to the Subscription Services category, where revenues grew 59.0% YoY.
The chart above shows Amazon's Other revenues trend line covering the last five consecutive quarters.
Amazon's ad sales grew faster than sales of industry leaders
If Amazon's Other revenues are generated primarily from advertising sales, this could imply that Amazon's advertising business grew faster than the advertising businesses of Alphabet and Facebook in 3Q17.
Alphabet's advertising sales increased 21.4% YoY in 3Q17, while Facebook's advertising sales increased 49.0% YoY in the same quarter. Twitter's (TWTR) advertising sales decreased 8.0% YoY in 3Q17, while Yelp's advertising sales grew 18.0% YoY in the same period.