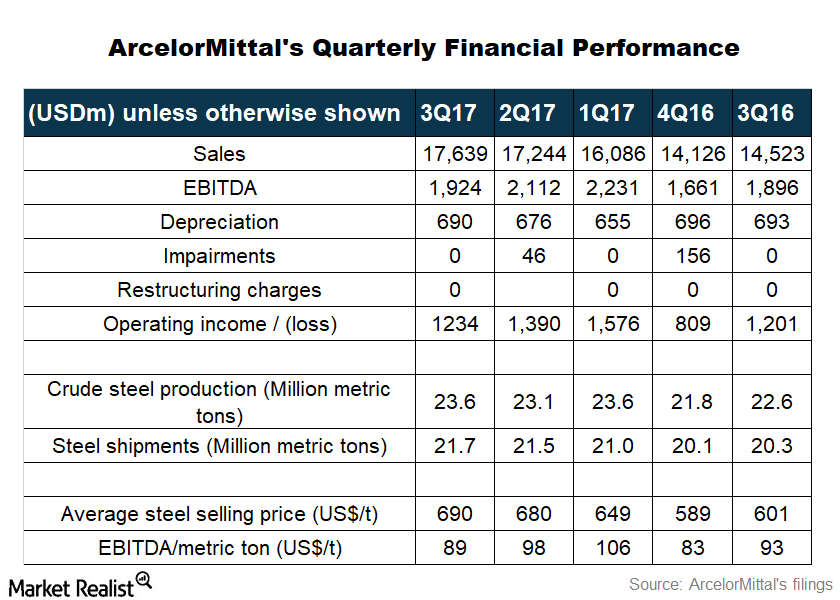 Analyzing Nucor and ArcelorMittal amid Higher Cathode Costs
Cathode costs
Graphite electrode prices have risen this year due to capacity curtailments in China. Along with higher spot pricing, cathode availability has hit steelmakers. Higher electrode prices are expected to increase steel companies' production costs, especially companies that rely on electric arc furnaces. In this part, we'll see what different steel companies had to say about their cathode exposure during their 3Q17 earnings calls.
Article continues below advertisement
Nucor
According to Nucor (NUE), it buys electrodes under contract prices. It should insulate the company from the recent price increase in the short term. Nucor stated that it has electrode inventory until 1Q18. However, the company might see an increase in electrode costs in 2H18.
Commenting on cathode prices, Mark D. Millet, Steel Dynamics' (STLD) CEO, said during the 3Q17 call, "I think there's a little bit of a panic in that marketplace." Millet said that Steel Dynamics has cathode "inventories cleared through the first quarter going into the second quarter of next year at 2017 prices." He also allayed fears of cathode availability in 2018. Millet expects graphite electrode prices to rise 2x–3x next year compared to the prices in 2017. However, the company doesn't see higher cathode prices as a major concern. Cathode prices account for ~0.5% of its costs.
ArcelorMittal
ArcelorMittal (MT) produces almost 80% of its steel in integrated steel mills (X) (AKS). The mills don't rely on graphite electrodes. Daniel Fairclough, ArcelorMittal's head of investor relations, said during the company's 3Q17 call, "We've got annual contracts for our electrode supply, so we've got good security into 2018. He also said, "Obviously the price of those electrodes is changing 2018 versus 2017 and that's been something that we've been renegotiating in recent weeks."
In the next part, we'll look at the company-specific guidance provided by different steel companies.