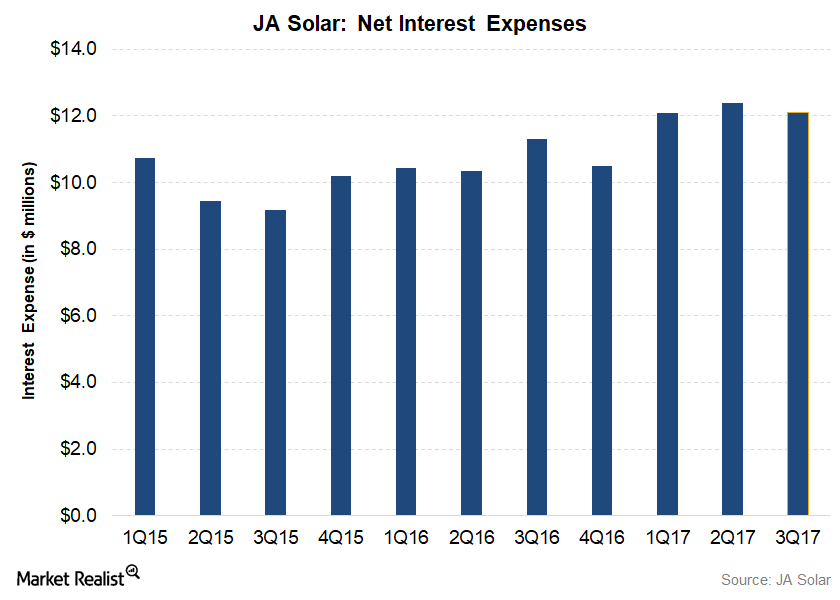 Analyzing JA Solar's Leverage and Liquidity Position
Interest expenses
JA Solar Holdings (JASO) reported $12.1 million as interest expense for 3Q17 compared to $12.4 million in 2Q17 and $11.3 million in 3Q16. The company's interest expenses haven't fluctuated much in the last few quarters.
Article continues below advertisement
Debt structure and liquidity position
As of September 30, 2017, JA Solar had $491.8 million in short-term borrowings and $433.2 million in long-term borrowings. Of the $433.2 million, $144.5 million is due in one year.
At the end of 3Q17, JASO had $309.1 million in cash and cash equivalents on its balance sheet compared to $477 million as of June 30, 2017. Its total working capital for the quarter was $43.8 million compared to $126.5 million in 2Q17.
Outlook
Some believe JA Solar's 3Q17 results were rather poor, given the strong demand for solar products during the quarter. Demand for products of upstream solar (TAN) players JA Solar (JASO), Canadian Solar (CSIQ), First Solar (FSLR), and JinkoSolar (JKS) depends on market conditions and government policies and incentives. According to Baofang Jim, JA Solar's chair and CEO (chief executive officer), "We are seeing some uncertainties around the ongoing trade cases in the U.S. and India, which could impact global solar demand in the mid-term."
On November 17, 2017, after the release of its 3Q17 results, JA Solar announced it had entered into a definitive merger agreement with an investor consortium, which includes Jin, in an all-cash deal worth ~$362.1 million. After the merger, JA Solar will be delisted from the NASDAQ and become a privately owned company. The merger is expected to close in 1Q18.
Be sure to visit our Solar Power Equipment page for updates on the merger.