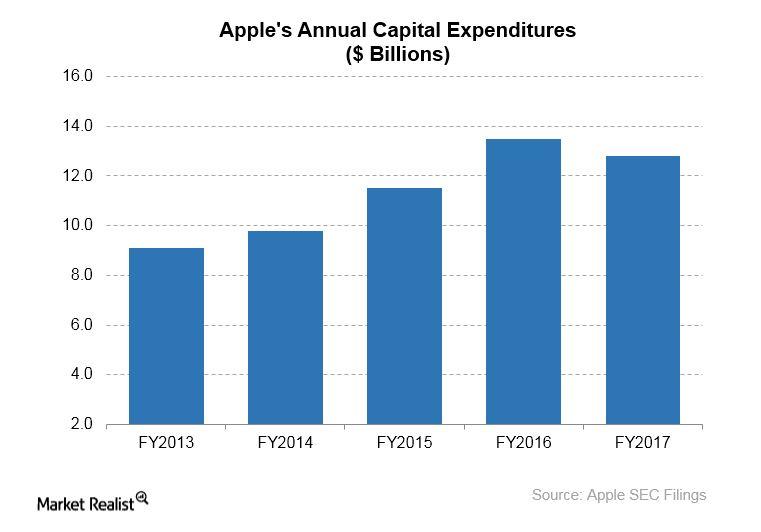 Analyzing Apple's Acquisitions in 2017
Nine acquisitions in 2017
So far, 2017 has been a busy year for Apple (AAPL) with M&A (merger and acquisition) activity. Including the recently revealed purchase of AR (augmented reality) developer Vrvana, Crunchbase data shows that Apple has acquired nine firms in 2017. It acquired eight firms in 2016. Samsung (SSNLF) has made four acquisitions in 2017.
The Vrvana acquisition adds to several AR and VR (virtual reality) acquisitions that Apple has completed recently. In addition to Vrvana, Apple has acquired at least five AR/VR-related assets including Flyby Media, Faceshift, and Emotient.
Article continues below advertisement
Diversifying revenue sources
Apple's activity in the AR/VR sector underscores its growing appetite for revenues outside its traditional iPhone market.
Apple isn't the only company working to diversify its revenue sources. Other companies want to diversify their revenue streams beyond advertising. Facebook (FB), Snap (SNAP), and Alphabet's (GOOGL) Google are also expanding into hardware. They're also focused on the markets for AR and VR systems. In 3Q17, Facebook and Snap relied on advertising sales for over 98% of their total revenues, while advertising contributed nearly 87% of Alphabet's revenue during the quarter. For Apple, the iPhone contributed nearly 55% of the top line in fiscal 4Q17 (September quarter).
Apple maintains high capital expenditure budget
Scrutiny of Apple's financial documents reveals that the company's M&A activities have tracked closely with elevated capital expenditure budgets. In fiscal 2017 (ended September 30), Apple's capital expenditure was $12.8 billion—compared to $13.5 billion in fiscal 2016 and $11.5 billion in fiscal 2015.