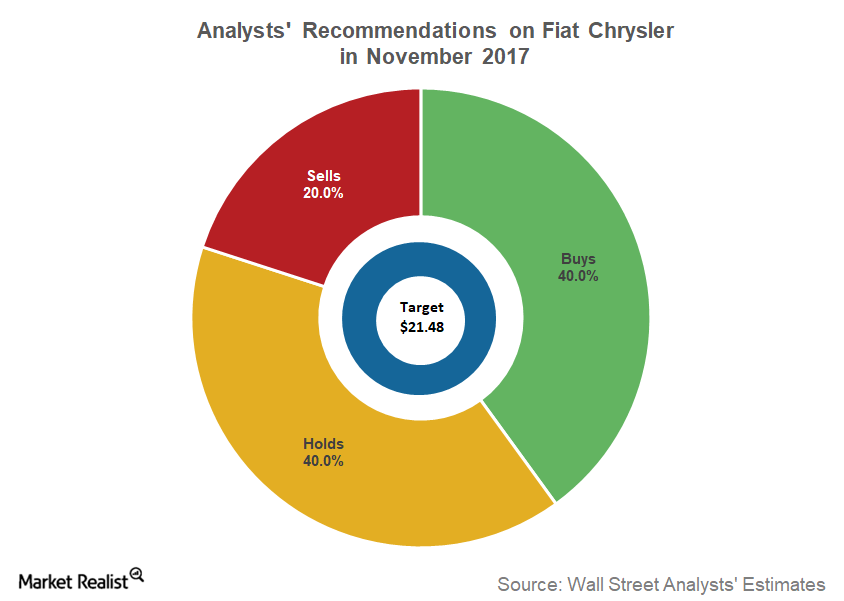 Do Analysts See More Upside Potential in Fiat Chrysler Stock?
Fiat Chrysler stock
In the first three quarters of 2017, Fiat Chrysler (FCAU) stock nearly doubled with stellar gains of 97.2%. However, in October the stock revested and ended the month with a 3.1% loss. It underperformed its peers General Motors (GM), Ford (F), and Toyota (TM), which rose 6.4%, 2.5%, and 4.1%, respectively, last month.
Nevertheless, FCAU was able to maintain its year-to-date gain of 97.2% as of November 21, 2017, near its all-time high of $18.33. Let's see now what analysts expect from the company in November 2017.
Article continues below advertisement
Fiat Chrysler: Analysts remain positive
According to data compiled by Reuters, about 40% of the analysts covering Fiat Chrysler stock are recommending a "buy." Another 40% were cautious and recommended a "hold." The remaining 20% (five of the 25 analysts) gave it a "sell" recommendation.
As of November 21, 2017, Fiat Chrysler's consensus 12-month target price was $21.48. That indicates a positive return potential of 19.9% from its market price of $17.91.
In the last month, analysts' consensus target price for FCAU has risen to $21.48 from $20.51.
Lower sales but solid profits
In 3Q17, FCAU reported a 25% YoY (year-over-year) rise in adjusted earnings. While the company's revenues for the quarter fell 1.6%, its profit margins improved significantly, partially driven by its increased focus on US retail vehicle sales.
It's important to note that Fiat Chrysler has shown good improvement in its profit margins for six consecutive quarters. Higher truck sales (FXD) and efforts to drive manufacturing efficiencies have helped the company boost profitability.
Next, we'll find out what analysts are recommending for Toyota Motor in November 2017.