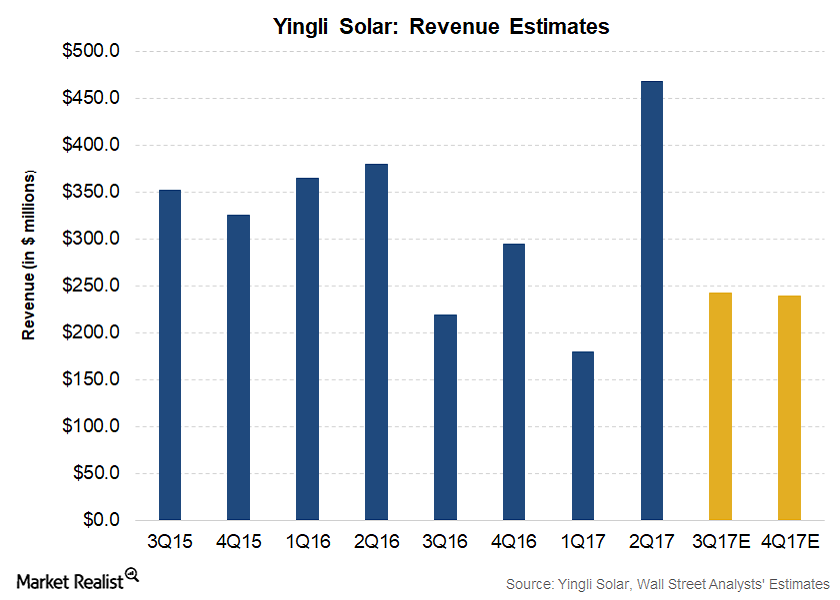 Analysts Expect Yingli Solar's Revenue to Rise in 3Q17
Yingli Solar's revenue estimate
In 3Q16, Yingli Solar (YGE) posted nearly $218.9 million in total revenues. Analysts estimate that it will report ~$242 million in revenues in 3Q17—a nearly 10.6% increase on a YoY (year-over-year) basis. The expected rise is primarily due to an anticipated increase in Yingli Solar's solar module shipments on a YoY basis.
Article continues below advertisement
2017 guidance
For 3Q17, Yingli Solar has a PV (photovoltaic) module shipment guidance range of 550 MW–600 MW (megawatt) based on market conditions, estimated production capacity, and expected customer demand. Yingli Solar's module shipments came in at 1,146.6 MW in 2Q17 and ~365.3 MW in 3Q16.
After the release of its 2Q17 earnings results, the company raised its 2017 total PV module shipment guidance to 2,500 MW–2,800 MW from 2,100 MW–2,200 MW.
Yingli Solar's shipments include the sale of its PV solar modules to external customers and the company's downstream solar projects. According to US GAAP (generally accepted accounting principles), Yingli Solar doesn't recognize revenue from the solar modules shipped to its downstream solar power projects. In 2Q17, there weren't any shipments to the company's downstream PV module projects.
While comparing the financial positions of upstream solar (TAN) companies like First Solar (FSLR), SunPower (SPWR), Yingli Solar, and Canadian Solar (CSIQ), investors need to consider the revenue recognition methods. First Solar posted $1.09 billion in revenues in 3Q17, while SunPower (SPWR), JA Solar (JASO), and Canadian Solar reported revenues of $477.2 million, $652.6 million, and $912.20 million, respectively. The revenue recognition process might be nonlinear. The reported revenue can fluctuate, which can impact the margins.
In the next part, we'll discuss Yingli Solar's 3Q17 margin estimates.