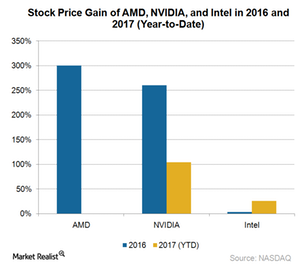 AMD Stock Underperforms Its Peers amid Uncertainty
AMD stock underperforms rivals 
For Advanced Micro Devices (AMD) stock, the growth story has come to a halt. After growing fourfold in the last two years, AMD stock hasn't changed much in 2017. It's natural for the stock to consolidate after very strong growth. However, when looking at AMD stock compared to its peers, its consolidation raises doubts.
NVIDIA (NVDA) stock also witnessed strong growth of 260% in 2016. However, the stock's growth momentum didn't stop in 2017. NVIDIA stock has risen 104% since the beginning of 2017. Even Intel (INTC) stock, which reported almost muted growth of 2%–3% in 2016, has risen 26% since the beginning of 2017.
Article continues below advertisement
Clouds of uncertainty surround AMD
AMD's stock price growth has stalled because all of its growth stories are old and have already been priced in. AMD's new products have improved its earnings and will likely increase its earnings in the future. The earnings growth is sufficient enough to encourage current shareholders to hold onto the stock, but it isn't enough to spark another rally.
Currently, AMD stock is in the hands of speculative traders who think that fundamentals aren't important. They trade on speculations and news. Even after declines, AMD's current trading price above $11 is far better than its level of $2.0 in early 2016. Long-term holders of AMD who booked their positions in early 2016 might book some profits as the stock price growth stalls.
If consolidation in AMD stock continues for a longer period, investors might move to other stocks that are moving.
Management's response to stock price
AMD has many long-term growth catalysts, but growing competition is raising doubts about the company's ability to stay competitive given its limited resources.
In an interview published on MarketWatch, AMD's CEO Lisa Su, said, "It's clear that investors still have doubts, and they will demand to see multiple quarters of execution. That's our job to prove."
In this series, we'll discuss AMD's stock and factors that would drive its future momentum.