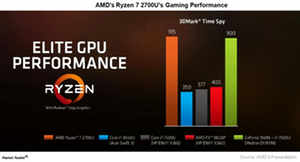 How AMD's Ryzen Mobile Stands up to Intel's Core
By Puja Tayal

Dec. 4 2017, Updated 9:02 a.m. ET
Ryzen Mobile specifications  
Advanced Micro Devices (AMD) has become strong competition for Intel (INTC) in the desktop processor space, having now entered the mobile PC (personal computer) space with its Ryzen Mobile. The company has so far launched two processors for ultra-thin laptops: the Ryzen 5 2500U and the Ryzen 7 2700U.
The four core, eight thread Ryzen Mobile combines Zen CPUs (central processing units) and Vega GPUs (graphics processing units) and consumes 15 W (watts) of power. These chips are comparable with Intel's eighth-generation Core i5 and Core i7 U-series laptop processors, which have the same core and thread count.
Article continues below advertisement
AMD's Ryzen Mobile APUs (accelerated processing units) feature AMD's Precision Boost 2 technology, which enables a processor to reduce clock speed when multiple threads are required. The APU also features AMD's new mobile XFR technology that enables the laptop to sustain peak clock speeds for a longer time.
Ryzen Mobile's performance
AMD claims that the new Ryzen Mobile APUs (application processing unit) deliver 200% more CPU performance and 128% more GPU performance than its predecessor, while using 58% less power. Like all Ryzen products, Ryzen Mobile beat Intel in multi-threaded performance. Compared with Intel's Core i7-8550U, AMD's Ryzen 7 Mobile was 44% faster in CPU processing and 161% faster in graphics processing.
The Ryzen 7 Mobile was marginally faster than Intel's desktop CPU Core i5-7600K, proving AMD's claim that its Ryzen Mobile delivers desktop-like performance on a laptop. This performance becomes even more impressive due to the remarkable difference in power consumption, with Intel's i5-7600K consuming 91 W (watts) and AMD's Ryzen 7 Mobile consuming 15 W.
Article continues below advertisement
AMD has stated that its Ryzen Mobile delivered performance similar to that of Intel's Core i7-8550U and NVIDIA's 950M GPU combined. It didn't compare its performance with NVIDIA's dedicated Polaris GPU as the latter delivers better performance than an integrated GPU. This shows that Ryzen Mobile won't likely replace NVIDIA's gaming GPU sales.
AMD did publish test results for its Ryzen Mobile's single-threaded performance.
How is AMD's Ryzen Mobile different?
What makes AMD's Ryzen Mobile one of its kind is its combination of a high-end CPU and GPU on a single chip. NVIDIA (NVDA) makes the best-performing GPUs but has no presence in CPUs. Intel makes the best-performing CPUs, but its integrated GPUs are not very powerful.
At the same time, AMD's CPUs and GPUs are not as powerful as Intel's and NVIDIA's top-performing products, but they are competitive. In this way, AMD has leveraged its unique position with its Ryzen Mobile.