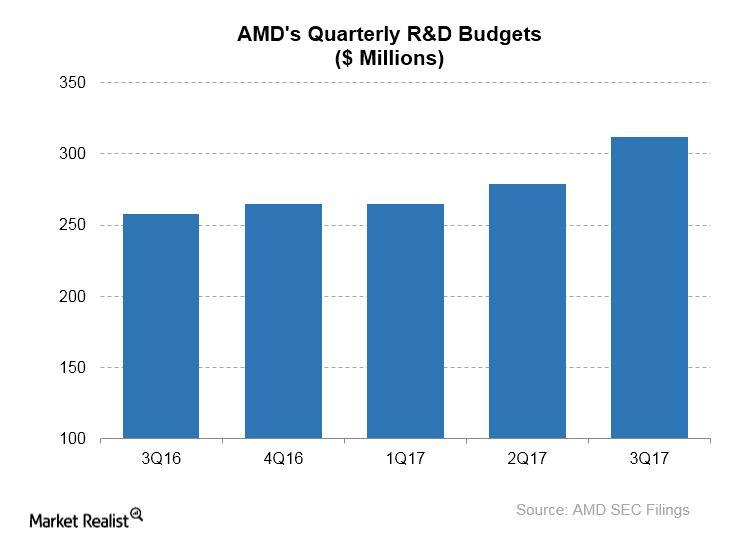 Does AMD Have What It Takes to Continue Top-Line Growth?
AMD's R&D budget has risen steadily
Chip designers like Advanced Micro Devices (AMD) are betting on innovation to help them to stand out in the competitive semiconductor industry. Semiconductor companies are investing increasingly more funds in innovation to strengthen their existing products and create new products to meet the demand for high-performance chips.
A scrutiny of AMD's cost structure reveals that R&D (research and development) is one area where the company has been spending more to apparently drive more innovation. In 3Q17, AMD's R&D budget was $312 million, up from $279 million in 2Q17 and $258 million in 3Q16. AMD invested $1.0 billion in R&D in fiscal 2016, up from $937 million in fiscal 2015.
Article continues below advertisement
Chipmakers no holding back on R&D spending
Intel (INTC), Micron Technology (MU), and Qualcomm (QCOM) have also been investing more in R&D. In fiscal 2016, Intel's R&D budget was $12.7 billion, up from $12.1 billion in fiscal 2015. Micron spent more than $1.8 billion on R&D in its fiscal 2017 (period ended August 2017), up from $1.6 billion in fiscal 2016.
Qualcomm invested $5.5 billion in R&D in its fiscal 2017 (period ended September 2017), up from $5.1 billion in fiscal 2016.
AMD exited 3Q17 with $879 million in cash
With innovation seemingly shaping semiconductor competition, it's important to find out whether AMD has what it takes to fund its product development projects. AMD exited 3Q17 with a cash balance of $879 million. As AMD has spent an average of $275 million quarterly on R&D projects for the past five quarters, the cash balance could finance R&D for the next several quarters. However, AMD was carrying a long-term debt of $1.4 billion at the end of 3Q17.
AMD's collaboration with Intel on new laptop-computer chips could also provide support for AMD's top-line growth. Notably, the AMD-Intel alliance is viewed as an effort to increase competitive pressure on Nvidia (NVDA).