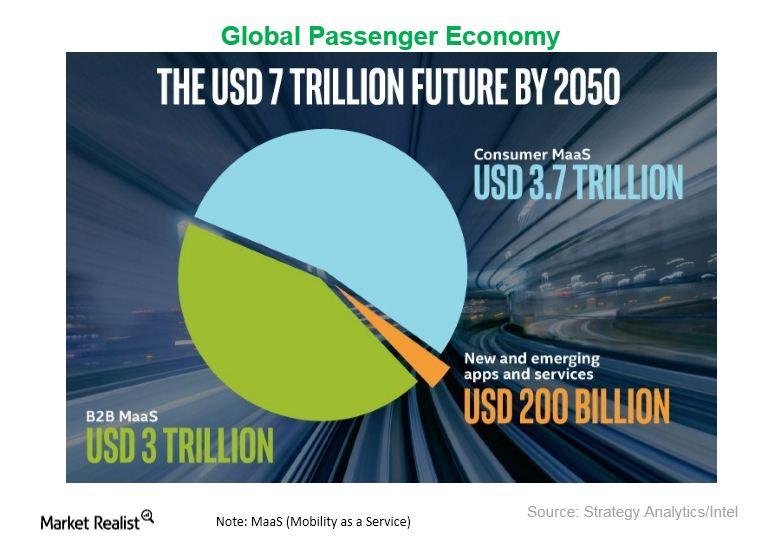 How Alphabet's Self-Driving Rivals Fared In 3Q17
A $7.0 trillion passenger economy
Alphabet (GOOGL), through its Waymo unit, is one of the companies in sectors such as technology, ride-hailing, and auto manufacturing that are investing in self-driving vehicles. According to a new study from research firm Strategy Analytics and chipmaker Intel (INTC), self-driving vehicles could enable a $7.0-trillion global "passenger economy" by 2050. This implies a huge revenue potential for developers of self-driving vehicles as autonomous driving becomes mainstream.
Intel has an interest in the passenger economy as it supplies technologies that are crucial to the implementation of self-driving.
Article continues below advertisement
Self-driving vehicles expected to save lives
The race to the $7.0-trillion passenger economy is rapidly heating up, with Alphabet's Waymo recently announcing plans to start testing of its self-driving vehicles in the snow in Michigan. Waymo has also in recent months inked strategic partnerships, including with Uber rival Lyft, to bolster its self-driving push.
The testing of self-driving vehicles in the snow is a way for developers to enhance the navigation capabilities of the vehicles in winter weather.
In addition to the financial payoff in self-driving economy, driverless vehicles are also expected to save more than 585,000 lives between 2035 and 2045, according to the study.
Waymo grew sales by 53.3%
In the race to the $7.0-trillion passenger economy, Alphabet's Waymo is up against Baidu (BIDU), Tesla (TSLA), Ford Motor (F), and General Motors (GM). In 3Q17, Alphabet's segment to which Waymo contributes sales reported a 53.3% YoY (year-over-year) rise in revenues to $302 million.
Tesla's 3Q17 revenues rose 29.6% YoY to ~$3.0 billion, while Baidu's 3Q17 revenues rose 29% YoY to $3.5 billion. Ford's 3Q17 revenues rose 1.4% YoY to $36.5 billion, but General Motors' 3Q17 revenues fell 13.5% YoY to $33.6 billion.