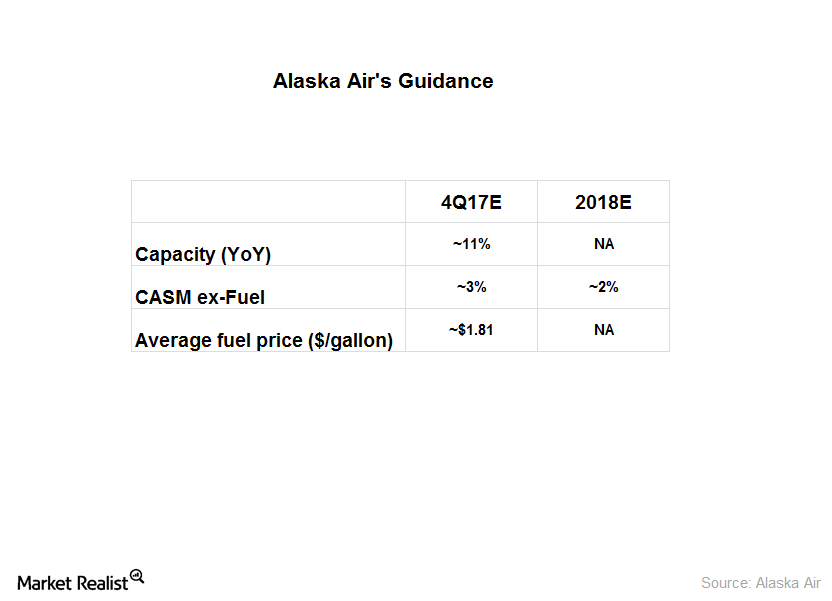 Alaska Air's 3Q17 Performance: Short-Term Challenges Come to Light
3Q17 performance
For 3Q17, Alaska Air (ALK) missed analysts' estimates for both revenues and earnings. Combined revenues (Virgin America numbers consolidated with Alaska Air) grew 5.4% year-over-year (or YoY) to $2.1 billion, missing analyst estimates of $2.0 billion.
ALK's 3Q17 net income fell 3.9% YoY to $266.0 million, leading to earnings per share (or EPS) of $2.24 and missing analysts' estimates of $2.26 per share.
Article continues below advertisement
Key metrics
Alaska Air Group's (ALK) combined capacity for the quarter rose 7.2% YoY to ~16.2 billion miles. Its traffic growth lagged capacity at 7.0% YoY growth to ~13.8 billion miles. Its average yield for the quarter fell 4.1% YoY, leading to a unit revenue decline of 6.1% YoY to 13.1 cents.
ALK's cost per available seat mile (or CASM) ex-fuel and special items fell 2.7% YoY. Due to increasing crude oil prices, fuel costs rose 13.9% YoY to $1.80 per gallon. As a result, total unit costs rose 0.9% YoY, lower than the 1.5% guidance by management.
Short-term challenges
Although Alaska Air's results weren't bad, the airline still faces short-term challenges and provided reduced guidance for 4Q17. For example, the airline is experiencing labor issues with the recently acquired Virgin America.
Also, this integration has led to increased costs and has shifted management's focus from growing the business. Plus, margins have contracted for the past three quarters. According to ALK's CEO, Brad Tilden, the integration may take another six to eight months for completion. It is only then that the airline may see some cost efficiency.
Another issue was the intensified airfare war in its new California markets. As a result, Alaska Air is at risk of losing Virgin America customers. Unit revenues on Virgin America's routes fell 8.0% YoY, while those of other routes remained flat.
Another issue was the pilot shortage at Alaska Air's regional subsidiary Horizon Air, which led to the cancellation of numerous flights and resulted in increased unit costs.
ALK cut 4Q17 guidance
As a result, Alaska Air (ALK) plans to reduce capacity on its unprofitable routes, resulting in lower capacity growth than initially expected. Its unit costs are expected to rise 3.0% in 4Q17 and 2.0% in 2017, including the recent pilot wage hikes. Its fuel costs are expected to rise 17.5% YoY to $1.81 per gallon.
You can gain exposure to Alaska Air (ALK) stock by investing in the First Trust Industrials/Producer Durables AlphaDEX ETF (FXR), which invests 1.9% of its portfolio in ALK. It also invests 2.0% each in JetBlue (JBLU), United Continental (UAL), and Delta Air Lines, (DAL). FXR holds 1.8% in Spirit Airlines (SAVE).
In the next article, we'll see how Southwest Airlines performed in 3Q17.