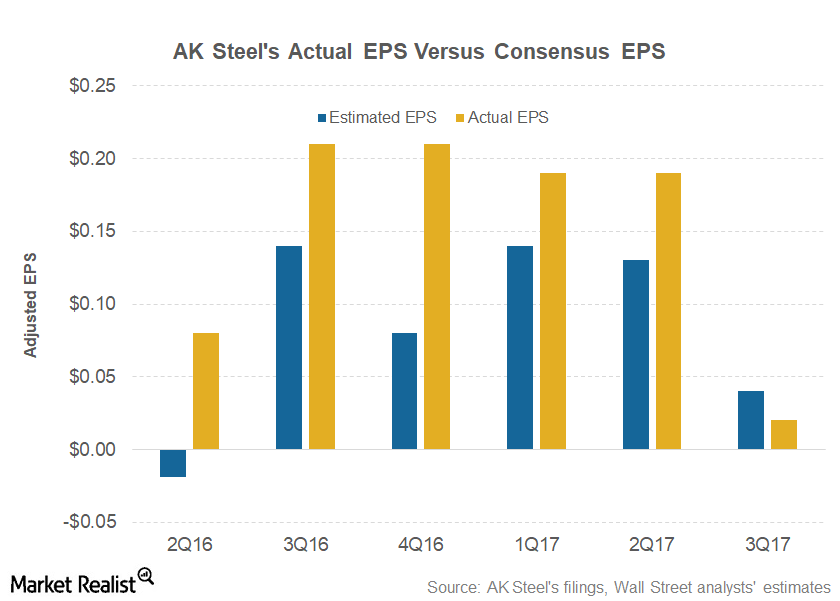 Why AK Steel's 3Q17 Earnings Triggered a Selling Spree
AK Steel's 3Q17 earnings
AK Steel (AKS) released its 3Q17 earnings on October 31 before the market opened. The company reported a net loss of $5.8 million, which translates to a per-share loss of $0.02. AK Steel posted an EPS (earnings per share) of $0.21 in 3Q16.
The company's 3Q17 earnings also include a negative impact of $4.7 million from the Precision Partners acquisition and $8.4 million from debt refinancing costs. If we exclude the $13.1 million impact from these one-time items, AK Steel posted an adjusted net profit for 3Q17.
Article continues below advertisement
Earnings missed estimates
AK Steel's 3Q17 earnings still fell short of analysts' estimates, and the stock saw massive selling pressure after its earnings release, closing at a loss of 21.5% on October 31.
Notably, U.S. Steel (X), which posted its 3Q17 earnings after markets closed yesterday, posted better-than-expected earnings for 3Q17.
Prior to this, it's been a decent earnings season for steel investors (CLF) (XME). Both Nucor (NUE) and Steel Dynamics saw upward price action after their 3Q17 results. While Nucor's 3Q17 results were better than expected, Steel Dynamics' earnings were in line with estimates.
However, Steel Dynamics managed to beat revenue estimates in 3Q17. (You can read Nucor's 3Q17 Earnings: Some Key Takeaways for a broad overview of Nucor's 3Q17 financial results.)
Series overview
In this series, we'll explore AK Steel's 3Q17 earnings in detail. We'll also cover key points from the company's 3Q17 earnings call. We'll continue in the next part by looking at AK Steel's revenues.