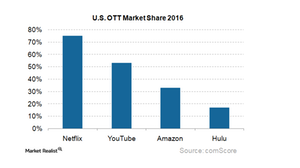 Netflix's Millarworld Acquisition: A Boost to Original Content?
By Aaron Hemsworth

Nov. 9 2017, Updated 9:00 a.m. ET
Features of the acquisition
Netflix (NFLX) has made its first acquisition in its 20-year history by acquiring comics publisher Millarworld. The financial terms of the deal weren't disclosed.
Millarworld was founded by Mark Millar and popularly known for super hit characters and storylines such as Kick-Ass, Kingsman, and Old Man Logan, which all turned out to be major Hollywood blockbusters. They brought in more than $900 million worldwide. Netflix's acquisition of Millarworld could pave a nice path for Netflix in the video streaming space. However, the transaction excludes the Kick-Ass and Kingsman franchises.
Article continues below advertisement
Importance of the acquisition
The acquisition of Millarworld came at a time when The Walt Disney Company (DIS) decided to launch its own video streaming business in 2019. It will pull its movie content from Netflix by the end of 2018. Popular shows based on Marvel characters will remain with Netflix. But there's still a possibility that Disney could pull those hit shows if its streaming business becomes popular.
Netflix is moving more into original movies. It will release Bright, its biggest ever $90 million film starring Will Smith, on December 22, 2017. The availability of Millarworld content and the eight years of Mark Millar's experience with Marvel could help the company with more original movies.
Competitive landscape
The acquisition could also give Netflix an edge over other video streaming companies such as Amazon's (AMZN) Prime Video, HBO (Home Box Office) (TWX), and Hulu.
According to comScore data in December 2016, "More than 49 million homes – 53 percent of U.S. Wi-Fi connected homes – accessed at least one OTT service." In the above chart, you can see that Netflix is dominating the US OTT (over-the-top) space.
Some of Millarworld's popular content includes American Jesus, Chrononauts, Empress, and Superior. Netflix may expand its popular original content with these films, and if the Millarworld characters gain popularity, Netflix could possibly merchandise the products and gain incremental revenue.