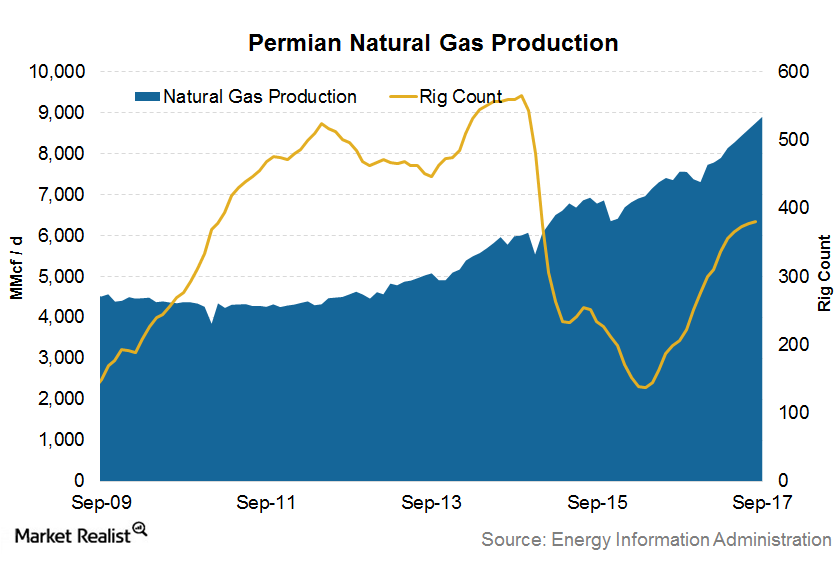 A Sneak Peek into Energy Transfer Partners' 3Q17 Volumes
The Permian
Energy Transfer Partners (ETP) has high exposure to the Permian Basin. According to the monthly drilling productivity report released by the EIA (Energy Information Administration), crude oil production in the Permian region rose 21.4% YoY (year-over-year) in 3Q17. At the same time, natural gas production grew 16.7% YoY.
Higher Permian natural gas production is expected to drive ETP's natural gas gathering and processing volumes. ETP is expected to experience a sharp increase in crude oil throughput volumes.
Article continues below advertisement
The Eagle Ford
The Eagle Ford region continued to experience a decline in natural gas production during 3Q17 due to weak drilling activity. According to the EIA, natural gas fell 0.7% YoY in 3Q17. The decline in Eagle Ford natural gas production might impact the partnership's natural gas gathering volumes.
The Barnett Shale
Energy Transfer Partners has a strong presence in the Barnett region. Drilling activity in the Barnett region remained flat 3Q17. According to the recent rig report by Baker Hughes, the total rig count in the region remained flat at seven during the quarter, though it has fallen to five as of October 27, 2017.
In the next part of this series (below), we'll look into 3Q17 distribution for ETP and its general partner, Energy Transfer Equity (ETE).