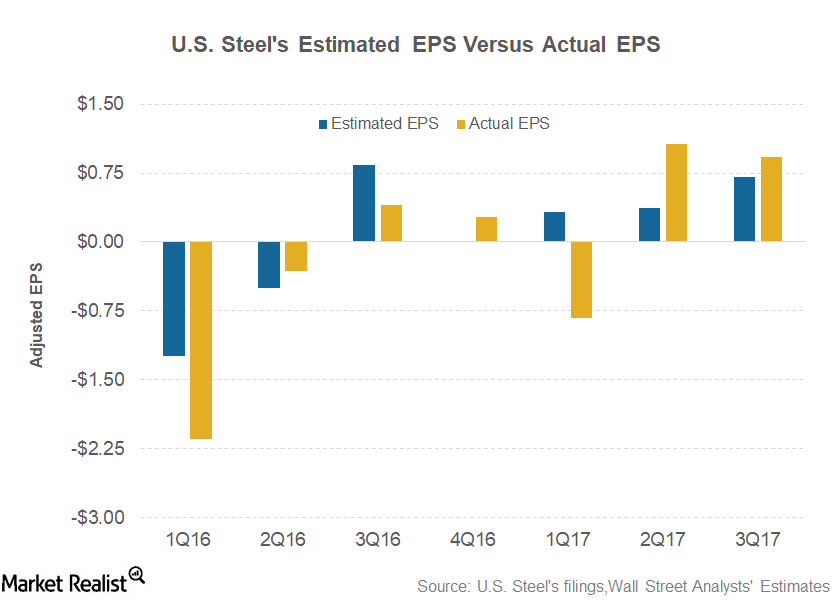 A Deeper Dive into U.S. Steel's 3Q17 Financial Performance
U.S. Steel's 3Q17 financial performance
U.S. Steel (X) released its 3Q17 earnings on October 31, 2017, after the markets closed and held its earnings conference call on November 1. The company's revenues and profits topped analysts' estimates by a decent margin. The market rewarded U.S. Steel for its better-than-expected earnings, and its stock rose 7.8% on November 1.
Along with U.S. Steel's earnings beat and better-than-expected guidance, positive broader markets aided U.S. Steel's price action on November 1. Steel producers ArcelorMittal (MT) and Nucor (NUE) also closed with gains on the day.
Overall, it's been a mixed earnings season for steel investors (XME). AK Steel (AKS), which released its earnings on October 31, fell 21.5% after its 3Q17 earnings release. AKS missed consensus earnings estimates for its top line and bottom line.
You can read Why AK Steel's 3Q17 Earnings Triggered a Selling Spree for a broad overview of AK Steel's 3Q17 earnings and conference call.
Article continues below advertisement
Series overview
U.S. Steel has three business segments: Flat-Rolled Products, U.S. Steel Europe, and Tubular Products. The Flat-Rolled Products segment supplies flat-rolled steel products to US customers. The company's US iron ore mining operations are also consolidated under the Flat-Rolled segment.
U.S. Steel's Tubular Products segment supplies steel products to the energy industry. Along with these two segments, the company also has operations in Central Europe.
In this series, we'll look at U.S. Steel's business segments' 3Q17 financial performance. We'll also look at the key takeaways from the company's 3Q17 earnings call.
Let's begin by looking at Flat-Rolled segment's 3Q17 financial performance.