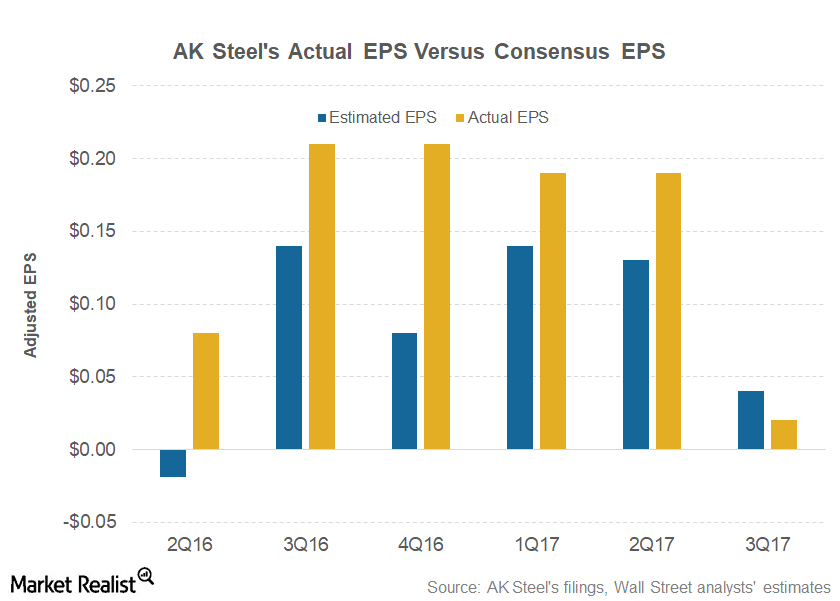 3Q17: Why U.S. Steel and AK Steel Followed Opposite Trajectories
U.S. Steel
Both U.S. Steel (X) and AK Steel (AKS) released their 3Q17 earnings on October 31. However, the similarity ends here as both these companies followed different trajectories after their 3Q17 earnings release.
While AK Steel fell 21.5% after its earnings release, U.S. Steel saw upward price action of 7.8%. In this article, we'll see why these stocks traded in opposite directions after their 3Q17 earnings releases.
Article continues below advertisement
3Q17 earnings
U.S. Steel beat analysts' estimates for revenues and net profit. On the other hand, AK Steel missed consensus estimates for its top line as well as its bottom line.
AK Steel reported a net loss of $5.8 million in the quarter, which translates to a loss of $0.02 per share. You can read Why AK Steel's 3Q17 Earnings Triggered a Selling Spree for a broad overview of AK Steel's 3Q17 earnings and conference call.
4Q17 guidance
Along with its 3Q17 earnings miss, AK Steel's 3Q17 guidance rattled the markets (NUE) (CLF). While AK Steel did not provide any quantitative guidance for 4Q17, it did give broad qualitative guidance.
According to AK Steel, its 4Q17 shipments and its average selling prices (MT) are expected to fall compared to 3Q17. Although AK Steel did not any provide any watertight EBITDA[1. earnings before interest, tax, depreciation, and amortization] guidance, it would be fair to assume that we could see further deterioration in the company's 4Q17 earnings.
On the other hand, U.S. Steel raised its 2017 net income guidance to $323.0 million from the previous guidance of $300.0 million. However, the company marginally lowered its 2017 EBITDA guidance by $25.0 million.
In the next article, we'll look at some of the key events that steel investors can follow in November.