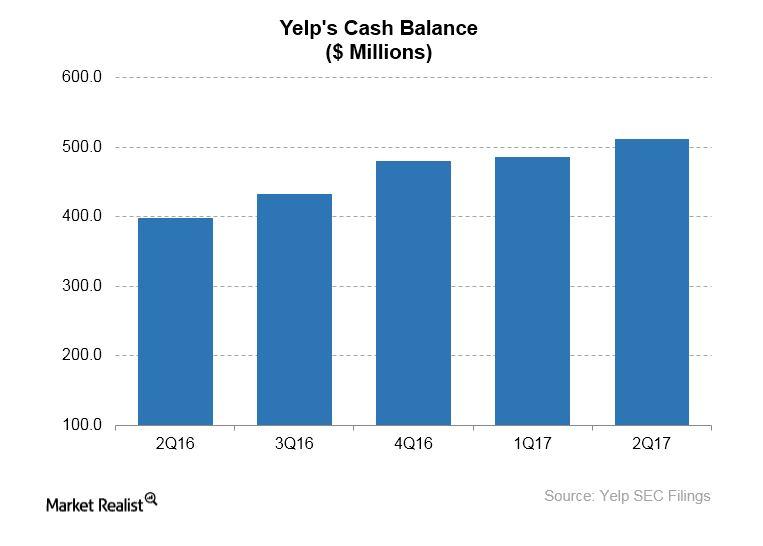 Yelp Closes Sale of Eat24 and Bags $251.7 Million
A strategic partnership
Yelp (YELP) has closed the previously announced sale of its food-ordering business, Eat24. It sold the business to Grubhub (GRUB), a US-based (SPY) provider of online and mobile food ordering and delivery services.
The sale of Eat24 was part of a strategic partnership between Yelp and Grubhub. The partnership involves integrating Grubhub restaurants into Yelp's local goods and services platform, thereby increasing order-enabled restaurants on Yelp to roughly 75,000. Yelp said that the partnership became effective upon the closure of the sale of Eat24.
Article continues below advertisement
Long-term partnership with Grubhub
"With the sale of Eat24 now complete, we are excited to begin our long-term partnership with Grubhub. This partnership will enhance our consumer product offering in Yelp's highest trafficked category by adding tens of thousands of additional restaurants for online ordering and delivery," said Yelp CEO Jeremy Stoppelman in a press release.
Yelp receiving $251.7 million immediately from sale of Eat24
Whereas Yelp has sold Eat24 for more than $280 million in cash, the company will not receive the entire amount immediately. Instead, Yelp is receiving $251.7 million at closure, with the balance being held in escrow for later release.
Yelp said it would update its financial outlook for fiscal 2017 to reflect the financial impact of the sale of Eat24. The sale of Eat24 is expected to boost Yelp's cash holdings in 2017. The company had a cash balance of $511.8 million at the end of 2Q17.
Yelp competes with Facebook (FB) and Alphabet's (GOOGL) Google for local advertising funds. Yelp's advertising revenue grew 19% year-over-year in 2Q17. Facebook and Google reported advertising revenue growth of 47% and 18%, respectively, in 2Q17.