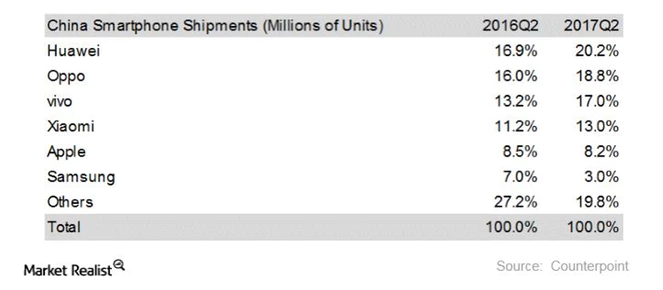 Will Apple's China Revenues Show a Continued Slide in Fiscal 4Q17?
APPL's falling revenues in China
Apple's (AAPL) revenues from Greater China have been declining since the start of fiscal 1Q16. Revenues from China fell 10% YoY (year-over-year) in fiscal 3Q17 to $8 billion, down from $8.9 billion in fiscal 3Q16.
By comparison, China revenues in fiscal 4Q16 fell over 30% YoY to $8.8 billion, down from ~$12.6 billion in fiscal 4Q15. Greater China includes revenues from China (FXI), Taiwan, and Hong Kong.
Prior to fiscal 1Q16, Greater China was Apple's second-largest market, but Europe has now overtaken Greater China in terms of revenue generated. China accounted for ~18% of Apple's revenue in fiscal 4Q16, and at the end of fiscal 3Q17, it accounted for 17% of revenue.
Article continues below advertisement
Qualcomm sues Apple (again)
Qualcomm's (QCOM) patent dispute with Apple (AAPL) has now spilled over into China. Qualcomm has sued Apple in a Chinese court to block the production and sales of iPhones in the country. Previously, the two firms had sued and countersued each other in the United States (SPY) over patent license fees.
Apple is already struggling to compete with domestic smartphone manufacturers in China. At the end of calendar 2Q17, smartphone shipments in China fell 3% YoY, after six consecutive quarters of growth, to 113 million units.
Huawei, OPPO, Vivo, and Xiaomi recently accounted for almost 70% of total smartphone shipments in China. Samsung (SSNLF) and Apple are still among the top 10 smartphone manufacturers in China.